print this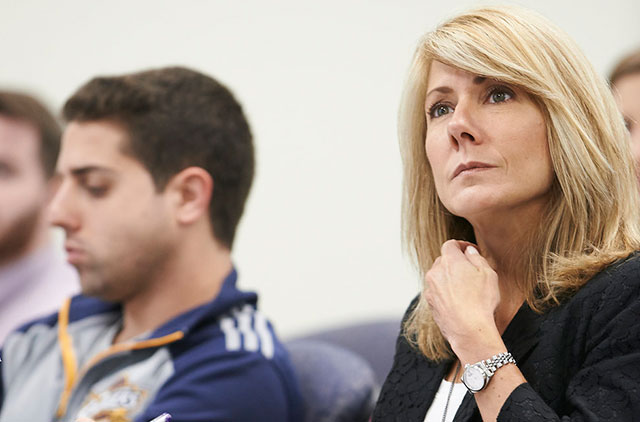 Learn more about the structure of the MLS program on the FAQ page.
The Master of Legal Studies (MLS) graduate degree at C|M|LAW offers an exciting opportunity to enhance your career credentials by gaining applied legal knowledge without obtaining a law degree, sitting for the bar, or practicing law.
An MLS degree can help an employee stand out within an organization or profession as someone who can interact with counsel, protect ideas and organizational assets, assess the need for regulation and work efficiently with changing legislation, such as health care reform and compliance.
The MLS program is designed for non-lawyers who work regularly with laws and regulations and could benefit from a greater understanding of the law as it relates to their field in a current or future position. Enrolled students may select from nine tracks including health care, criminal law and cybersecurity, or work with an advisor to design an individualized concentration that fits their career needs.
MLS students take some of the same classes as the JD students studying to become lawyers, but are able to take fewer classes and focus on the specialized areas that will specifically enhance their careers. While most students enroll in the program part-time, full-time study can be discussed. Contact Professor Jonathan Witmer-Rich for more information. 
Who can benefit from a Master of Legal Studies?
Anyone who works regularly with lawyers, or with laws and regulations, such as corporate and non profit managers, accountants, auditors, government employees, realtors, engineers, scientists educators, health care professionals, court employees, law enforcement personnel, and human resource professionals. Or anyone who wants to bring legal knowledge to their work, such as librarians, information specialists, journalists, authors, and scholars. Anyone who wants to enhance their professional value or redirect their career, or who has always been interested in the law and wants to learn more about it could benefit from the MLS.
Why C|M|LAW for Your Master of Legal Studies?
Learn from accomplished faculty who are known for engaged, student-centered teaching;
As the first MLS program in Northeast Ohio, C|M|LAW's program has had time to continually improve and respond to workforce needs;
It's career-focused. C|M|LAW's professional network of influence is unparalleled in Northeast Ohio and those key relationships keep our curriculum relevant for today's professionals;
Classes that are made up of students with diverse experiences and professions enrich learning and networking:
"In one class, we can have a doctor, an insurance agent, a practicing attorney, and more. It makes for interesting class discussions because students hear multiple perspectives based on real life application of law and policy. Every class builds knowledge and networks – I even had a case in which one of my students hired a classmate!"

--Professor Browne Lewis
 
MLS students may select from an array of tracks designed to make their acquired legal knowledge more relevant to their own professions and career goals. Sample tracks include:
Students may also work with a faculty advisor to build an individualized curriculum in areas such as:
Administrative and Regulatory Law • Civil Litigation and Dispute Resolution • Constitutional Law • Cybersecurity and Privacy Protection • Education Law • Employment and Labor Law • Environmental, Land Use and Real Estate Law • Family Law • Intellectual Property Law • Jurisprudence • Local Government Law • Non-Profit Management • Tax Law
What our Students And Graduates Are Saying
"As a physician in a leadership position I feel that having an understanding of the legal aspects of the job is a necessity, especially with the complexity of the current health care system. I found the Master of Legal Studies program extremely helpful in obtaining the legal knowledge I needed, which has helped me tremendously in my work as well as helping me educate physicians-in-training regarding subjects they might face in their future career, and even understanding the basic components of a contract. Gaining understanding of legal analysis was another huge benefit since it changed my thinking process when analyzing the problems I face. The beauty of this degree is that students can pick up classes that suit their needs and learn from outstanding experts at Cleveland Marshall College of Law."
Ahmed Kilani, MD, MLS '16
Cleveland Clinic Fairview Hospital
Program Director, Internal Medicine Residency; Chairman, Graduate Medical Education Committee; Physician Advisor, Care Coordination Department; Regional Director, Cleveland Clinic Quality Alliance; Clinical Assitant Professor, Celeveland Clinic Lerner College of Medicine of Case Western Reserve University
---
"I have always had a strong interest in law and policy, and my career and community service experience has always connected me to this area. I wanted to obtain a Master's degree that fit my professional aspirations and goals and that would also allow me to be more effective in my service to the community. My experience thus far has been amazing; the staff and faculty have been very helpful in gauging my needs and assisting me in formatting the program in a way that meets my needs as a student and professional. I would definitely recommend the MLS program to anyone looking to advance their knowledge in law without necessarily the commitment of a JD program."
Stephanie Pope
Probation Officer, City of Cleveland
Vice Chair, Cuyahoga Metropolitan Housing Authority (CMHA) Board of Commissioners
---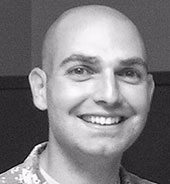 "For me as a police officer, the benefit of the MLS degree is twofold. First of all, this unique curriculum is an alternative to the J.D. program that still allows me to delve deeper into the intricacies of the law. Secondly, I am able to enhance my career by networking with law students who are tomorrow's attorneys, prosecutors, judges, and lawmakers. Additionally, the fact that I am able to use my veterans educational benefits (G.I. Bill) to cover the entire cost of my graduate degree is an enormous benefit."
Zacki Hazou
Full-time Police Officer
---
"I have always been interested in law, even though I did not intend to become a practicing attorney. My position at The George Gund Foundation demands knowledge of laws and regulations across the fields of philanthropy, nonprofits, government and education. My work in 2012 in the development of Cleveland's Plan for Transforming Schools and its supporting legislation, House Bill 525, is probably my best example of a deep dive into legislation, law and contracts.
The Master of Legal Studies degree seemed like a great opportunity to further my knowledge in the field of law. It has met and exceeded my expectations. My courses are rigorous, interesting and applicable to my career: it's hard to pick a favorite! My MLS and JD classmates have a wide variety of impressive personal and professional experiences, and contribute greatly to the richness of my education."
Ann Mullin
Senior Program Officer for Education
The George Gund Foundation
---
"The greatest aspect of the Master's of Legal Studies program is that I have been able to customize the program to fit my needs. I am able to continue to work while taking classes that advance my knowledge of the law in the areas that apply to my career. The classes I have taken have provided me additional insight in the workplace and will allow me to advance my career in the future. The faculty has been very responsive in assisting me to reach my career goals and have encouraged me along the way. This program has provided me immeasurable benefit."
Amy T. McMillan
Consultant with Dave Oldham Consulting Inc.
---
How To Apply
Applicants must submit:
A completed application
An official transcript showing that the applicant has earned a Bachelor's degree, and also official transcripts of all other college, graduate, and professional studies, whether a degree was obtained or not; NOTE: Applicants with a final undergraduate Grade Point Average under 3.0 must also submit one standardized test score: LSAT, GRE or GMAT are acceptable
A current resume detailing work and professional experience
At least two letters of recommendation
A personal essay describing how you expect to use the knowledge acquired in pursuing the MLS degree
A personal interview may also be required
Note: The LSAT is not required for admission to the program
For other questions, contact the Office of Admission at 216-687-2304.
Applicants to the MLS program should understand that the MLS is not intended to prepare students for the JD program. Further, under rules promulgated by the American Bar Association, the accrediting body for law schools, no credit may be given towards the JD for any courses taken in the MLS program. However, students who successfully complete courses in the MLS program will have a better understanding of law than people who have not. If they eventually do enroll in a JD program, the MLS experience might prove beneficial.
---
Questions? Please contact our Office of Admission.
Phone: 216.687.2304 or 866.687.2340 (toll free)