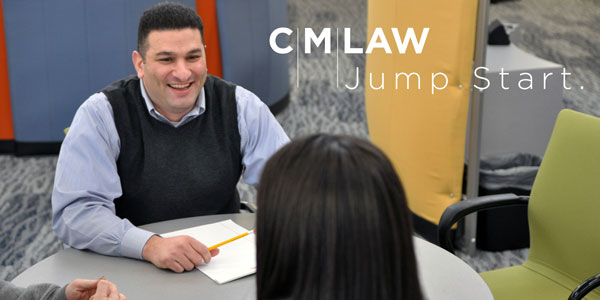 Kick off law school career early with C|M|LAW Jump Start -- a free program designed to help incoming 1Ls acclimate to law school. This four-week program provides an introduction to the law school experience, including instruction on basic study and exam-taking skills.
During the seven sessions, students will participate in mock classes and hone critical skills by receiving assignments with personal feedback that will prepare them to hit the ground running on the first day of class. 
Participation in C|M|LAW Jump Start is mandatory for all incoming first -year students. Students can participate virtually. All assignments and lectures must be completed prior to August 21st. 
 Topics covered during C|M|LAW Jump Start include:
Introduction to the American Legal System 

Reading cases

Writing case briefs

Preparing for the law school classroom 

Basic legal analysis and exam writing techniques

Note taking, outlining, and preparing for exams

and more!
2021 Jump Start
July 5 - July 26, 2021
Sessions meet Mondays and Wednesdays 
5:30 - 7:00 p.m. 
Day 1: Welcome and Introduction (7/5)
Day 2: Reading Cases (7/7)
Day 3: The Law School Classroom (7/12)
Day 4: Class Notes / Outlines (7/14)
Day 5: Sample Law School Class (7/19)
Day 6: IRAC: The paradigm for legal analysis (7/21
Day 7: Final Preparations for Fall Semester (7/26)
RSVP to reserve your spot in C|M|LAW Jump Start 2021 at https://forms.office.com/Pages/ResponsePage.aspx?id=mufz1z2UzkquqyCQMIB1...