print this
A Message from Dean Lee Fisher 
Our New 120 Scholarship Campaign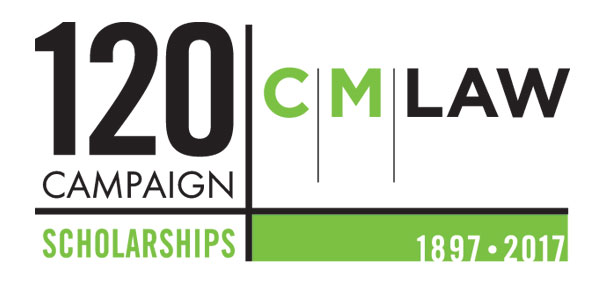 June 2, 2017
I'm very excited and grateful for this wonderful opportunity to serve as the next Dean of Cleveland-Marshall College of Law.
We are a law school on the rise. C|M|LAW is a great regional urban public law school with a national voice, especially in view of our talented student body, our dedicated staff, our highly accomplished faculty, and our supportive and successful alumni.
But it's no secret that this is also a very challenging time for law schools throughout the country. The past several years have seen a national decline in LSAT takers, a dramatic reduction in applicants to law schools, concern about high levels of educational debt, and a challenging legal market.
And our challenge as a public law school is even greater since Cleveland State University, and as a result, C|M|LAW, must depend less and less on state support during a time of significant state budget cuts.
The true measure of our success will be our ability to take stock of our challenges and opportunities, focus on continuous improvement, and approach our future with a sense of strategic urgency and optimism. 
So on May 2, we launched the 120 Scholarship Campaign. As you know, this is C|M|LAW's 120th anniversary. We have developed a plan to increase enrollment from the current first-year class size of 100 to 120 as soon as possible. Our highest priority is increasing enrollment of high-quality students and the only way to accomplish this is by raising a minimum of $150,000 for scholarships by August 15, 2017.
Our very ambitious goal is to raise the first $120,000 by June 30, 2017. So today, I am asking you to make a contribution or a pledge by June 30 of an amount ranging from $120 to $12,000.
I am very pleased to report that as of today, we have raised $104,413 since May 2 for the 120 Scholarship Campaign. If you haven't yet contributed or pledged, it would mean a lot to us if you would do so by June 30.
The first 120 donors who contribute or pledge $1,200 or more by June 30 will receive a limited edition C|M|LAW 120 lapel pin, specially designed for this historic campaign. Please give here: Believe in C|M|LAW. Give Now. or send me an email with your pledge at: Lee.fishernull@csuohio.nulledu.
Please be one of the inaugural donors to the 120 Scholarship Campaign. Your groundbreaking contribution will be the foundation of our campaign. It would mean a lot to us.
I look forward to working with you, the faculty, staff, students, alumni, and community leaders to take C|M|LAW to the next level of excellence and strength.
My best,
Lee Fisher