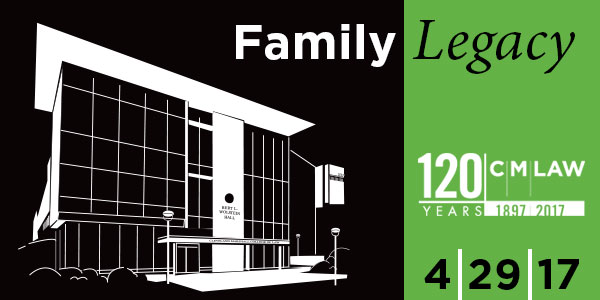 Saturday, April 29 we hosted our first-ever C|M|LAW Legacy Celebration. A C|M|Law Legacy is an alumnus, alumna or current student whose parent, grandparent, sibling, aunt, uncle, or spouse/life partner also received a degree from C|M|Law. More than 60 alumni legacies from 16 families attended and each were given our new C|M|LAW Legacy pin. A few families had as many as 7 members of their family who graduated from C|M|LAW!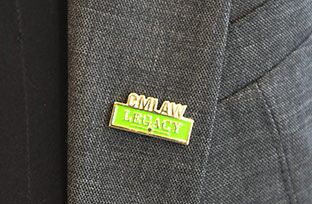 The Cleveland-Marshall Law Alumni Association co-sponsored the event. President Gregory F. Clifford '80, along with Immediate Past President Kevin F. Butler '01, President-Elect Tim Collins '85, and Vice President Michelle Paris '84, were in attendance.
Congratulations to our Trivia Winner Russell O'Rourke '84
With an impressive 10 out of 14 questions correct!
We pinned five graduating Legacies:
Jordan Brogley Webb '17 (Mother: Joycelyn Brogley '90)
Nicholas Haddad '17 (Mother: Susan Stephanoff '83)
Nina Nager '17 (Uncle: David Nager '90)
Michael Nakon '17 (Grandfather: Michael Nakon '63; Uncle: Matthew Nakon '88)
Alex Welsh '17 (Mother: Coleen Welsh '76)

Graduating Legacy Students
We have a significant number of Legacy students (December 2016 and May 2017 graduates) who will be celebrating on May 20 with their families at Commencement!
Alisa Boles, Jordan Brogley Webb, Jacob Bruner, Erica Cicero, Michael Ertle, Nicholas Haddad, Josh Halpern, Karl Helfrich, Adam Henry, Carlos Johnson, Jr., Nicholas Kolar, Mary Mason, Jennifer McGee, Nina Nager, Michael Nakon, John Reulbach III, Stephen Tymcio, Genevieve Vince, Alexander Welsh
What Our Attendees said:
"Felt so good this morning when I thought about last night's legacy event. Many thanks to everyone who made it happen. It was really special. Gotta love C-M." --Judge Michelle Paris '84

"Barbara and I thoroughly enjoyed the Family Legacy event last night! In concept and execution, it was one of the very best C|M|Law-CMLAA functions that I have ever attended -- and that's saying something! It was very moving to see Cleveland-Marshall's influence on so many families." --Vince Lombardo '81

"The Butlers (Kevin, Dennis and I) really enjoyed the event." --Gerri Butler '98
Are you a C|M|LAW Legacy? Let us know so we can update your alumni record and invite you to future Legacy events. Email us at legacynull@law.csuohio.nulledu.