print this
Office of Career Planning Staff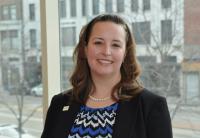 Heather Day DiFranco (h.d.difranconull@csuohio.nulledu)
Director, Career Planning
(216) 687-2540
Heather joined the Office of Career Planning in July 2013, after more than five years in the Career Development Office at Case Western Reserve University School of Law. While at CWRU, Heather was involved in all aspects of career planning including student advising, employer outreach, interview programs, programming, marketing and more. Heather is an active member of NALP, the Association for Legal Career Professionals, having authored several articles and presented at the 2014 Annual Conference. Heather is currently Chair of NALP's ABA Audit Protocol Work Group. A 2001 graduate of The Ohio State University Moritz College of Law, Heather practiced domestic relations and school law in Columbus and worked as an attorney editor for Thomson/West (now Thomson Reuters) before becoming a legal career advisor. Heather earned her B.A. from Baldwin-Wallace College in 1998.

Sarah Dylag Beznoska (s.beznoskanull@csuohio.nulledu)
Assistant Director, Career Planning
(216) 687-2260
Sarah joined the Office of Career Planning in November 2013. She graduated from Duke University School of Law and then practiced law at a private firm in Washington, D.C. She also worked as Committee Counsel for the Washington State House of Representatives in Olympia, Washington. Sarah grew up in the Cleveland area and returned in 2007 to focus on assisting law students with career and professional development. Her experience has included student advising, professional development programming for students, externship program administration, and employer outreach. She enjoys learning about each student's individual background and goals, and working with students, alumni, and employers to achieve successful professional outcomes. She earned her B.A. in American Studies and Spanish from the University of Notre Dame. Sarah is a member of the Cleveland Metropolitan Bar Association and NALP, the Association for Legal Career Professionals. She has presented at two of NALP's Annual Conferences. Outside of the office, you will find her spending time with her family, running, or hiking somewhere on the fantastic park and trail systems in Northeast Ohio.

Nancy Erhardt (n.erhardtnull@csuohio.nulledu)
Coordinator, Career Planning
(216) 687-6871
Prior to joining the Office of Career Planning in July 2013, Nancy worked five years in the University's Bursar's Office (now Treasury Services) and ten years at the CSU West Center. Throughout her time at the West Center, she devoted herself to making certain that students' and faculty's questions or concerns were resolved after one visit to her office -- the true definition of customer service. Nancy's knowledge of the University and dedication to CSU is an asset to the Office of Career Planning and a bonus for all of our law students.