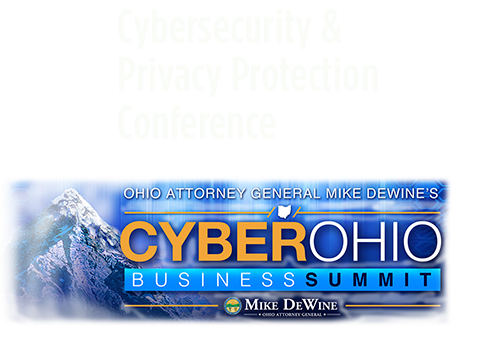 March 22 & 23, 2018
Register Here
Home | Schedule/Program | Speakers | Conference Information | Materials | Sponsors | Sponsorship Opportunities
The Center for Cybersecurity and Privacy Protection at Cleveland-Marshall College of Law is joining with Attorney General Mike DeWine's CyberOhio Business Summit to present two days of collaborative learning between technology, business, law and government, cutting-edge topical discussions and engaging keynotes from national leaders. 
16 Hours CLE Credit
12 Hours IAPP CPE Credit
CYBERSECURITY & PRIVACY PROTECTION CONFERENCE March 22
8.25 hours hrs CLE credit
 A truly cross-sector event, Cleveland- Marshall's Cybersecurity and Privacy Protection Conference is one of the leading educational and networking events in the Great Lakes Region, and features rich content of interest to legal and compliance professionals, information technology and security experts, and executives responsible for developing security and privacy policies.
Keynote Speaker:
Mike Rogers
Former Chair, US House of Representatives Permanent Select Committee on Intelligence (HPSCI) and David M. Abshire Chair, Center for the Study of the Presidency and Congress
---
CYBEROHIO BUSINESS SUMMIT March 23
Free Event (registration required and fee for 7.75 hrs CLE credit)
Attorney General Mike DeWine's CyberOhio Business Summit will feature cybersecurity experts from across the country to provide small business owners and leaders of nonprofits with practical, understandable, and actionable cybersecurity information. Come learn how to better protect your business and yourself from the ever evolving cyber threat landscape.
Keynote Speakers:
Mike DeWine
Ohio Attorney General
---
Renault Ross
Chief Cybersecurity Business Strategist, Symantec Americas
---
Past Cybersecurity and Privacy Protection Conferences
2017 Conference Information
2016 Conference Information
Highlights from the inaugural Cybersecurity and Privacy Protection Conference
---
Center and 2018 Conference Sponsorship:
---
---
The Conference is presented in partnership with the Northeast Ohio CyberConsortium, the IoT Collaborative and the Laura and Alvin Siegal Lifelong Learning Program at CWRU.