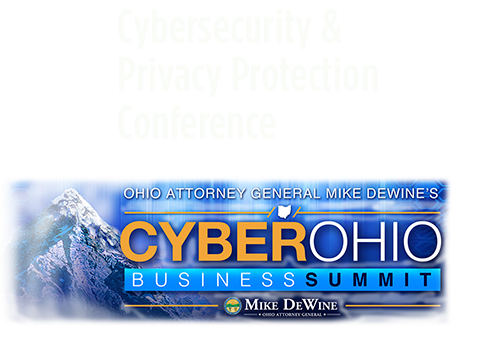 March 22 & 23, 2018
Register Here
Home | Schedule/Program | Speakers | Conference Information | Materials | Sponsors | Sponsorship Opportunities
---
Additional speakers to be announced.
CYBERSECURITY & PRIVACY PROTECTION CONFERENCE Speakers:
Israel Arroyo
Founder and President, Stealth Entry Cyber Security Solutions
Victoria Beckman
Co-Chair, Privacy & Data Security Practice, Kegler, Brown, Hill & Ritter LPA
Susan Bennett 
Principal, Sibenco Legal & Advisory
Jeff Brancato 
Principal, Brancato Solutions
Aaron Call
CISO, State of Minnesota
Lisa Camp
Associate Dean, Strategic Initiatives, Case Western Reserve University
Joseph Compton
Principal, Risk Advisory Services, Skoda Minotti
David Crews
Vice President, Corporate Information Security, KeyBank
Annie Cute 
Director of Sales, Intelligent ID
James Deiotte 
Executive in Residence, CSU's Monte Ahuja College of Business
Mike DeWine
Ohio Attorney General
Christopher Dore
Partner-in-Charge Case Development & Investigations, Edelson PC
Christopher Dorr
Third-Party Risk Management, Pivot Point
Nathan Dilley 
Director of Sales, Prime 3SG
Robert Eckman
Chief Information Security Officer, MCPc
Kimberly Ferenchak 
Vice President and Practice Leader of Executive Risk, Oswald Companies
Karl Fox 
Founder & CEO, Lithik
Jonathan Frenkel
Assistant General Counsel, Federal Bureau of Investigation
Frances Floriano Goins 
Partner, Co-Chair Cybersecurity & Privacy and Financial Services & Securities Litigation Groups, Ulmer & Berne LLP
Joshua Gold
Chair, Cyber Insurance Recovery Group, Anderson Kill
David Glockner
Chief Compliance Officer, Citadel LLC
Kevin J. Goodman
Managing Director, Partner, BlueBridge Networks, LLC
Damon Hacker
President, CEO and Founder, Vestige Digital Investigations
Matt Hallock
National Sales Executive, Expedient
Robert Hanna
Partner, Tucker Ellis
Justin Herdman
U.S. Attorney, Northern District of Ohio
Eric Hibbard
CTO, Security & Privacy, Hitachi Vantara
Shelly Hillyer 
Director - Compliance, Risk & Insurance Management and Assistant General Counsel, Cleveland Cliffs
Paul Hugenberg III
Founder, President and CEO, InfoGPS
Jamil N. Jaffer
Vice President for Strategy & Business Development at IronNet Cybersecurity
Stephen Jett
Partner, Cybersecurity and Privacy Practice, Ulmer & Berne LLP
Andy Jones
CEO, MCPc
G. Dick Kerr
Vice President and Chief Information Security Officer, Eaton Corporation
Deborah Marko Koeberer 
Privacy Officer, University Hospitals 
Ron Koelsch
Cybersecurity Task Force, U.S. Secret Service
Jeffrey Kosc
Lead, Technology Transactions Practice, Benesch
Jim Labiszak
Manager, Security Consulting Services, Mandiant
John L. Landolfi
Chair, Privacy & Data Security Practice, Vorys, Sater, Seymour and Pease LLP
Travis LeBlanc 
Partner, Boies, Schiller, Flexner
Jim Mazotas 
Founder, Intelligent ID 
Douglas Meal
Co-Lead, Privacy and Cybersecurity Practice, Ropes & Gray
Aaron Mendelsohn
Director, Chief Data Privacy Officer, Ingram Micro
Steve Millard
President and Executive Director, COSE
Jennifer Miller
Senior Counsel Global Privacy, Hyland
Jeffrey Miller 
Cybersecurity Practice Lead, Cyberstone
Jeremy Mio
Information Security Officer, Cuyahoga County
Steven Mitchell
Acting Regional Manager, U.S. Department of Health and Human Services, Office for Civil Rights for Civil Rights
Matt Neely
Threat and Vulnerability Team Manager, Progressive Insurance
Ben Osbrach
Leader, Assurance Concepts Practice, Skoda Minotti
Timothy Opsitnick
Executive Vice President & General Counsel, TCDI
Helen Patton 
Chief Information Security Officer, The Ohio State University
Milind Paranjape
Director, Information Technology, Logistics & Distribution, JobsOhio
Brian Ray
Professor and Director, Center for Cybersecurity & Privacy Protection, Cleveland-Marshall College of Law
Dan Riedl
Assistant US Attorney, National Security and Cyber Unit, Northern District of Ohio
Hon. Mike Rogers
Former Chair, US House of Representatives Permanent Select Committee on Intelligence (HSPCI) and David M. Abshire Chair, Center for the Study of the Presidency and Congress
Renault Ross
Chief Cybersecurity Business Strategist, Symantec Americas
Bridget Sakach
Network Security & Privacy Specialist, AIG
Jeremy Samide
CEO, StealthCare LLC
Matthew Shepherd
Chief, National Security and Cyber Unit, U.S. Attorney's Office, Northern District of Ohio
Gabriel Slater
Attorney-Advisor, Cybersecurity, Office of the General Counsel, U.S. Department of Homeland Security
Bryan Smith
Supervisory Special Agent, Cyber Unit, Federal Bureau of Investigation
Janine Spears
Associate Professor, CSU's Monte Ahuja College of Business
Jon Miller Steiger 
Director, East Central Region, Federal Trade Commission
Gregory Stein
Counsel, Cleveland Clinic
Dr. Arlonda Stevens
Vice President, Privacy Office, PNC Bank
Steven Stransky
Senior Counsel, Privacy & Cybersecurity Practice, Thompson Hine
Greg Tapocsi
Director, CyberOhio
Brian Tishuk
Executive Director, Financial Sector Coordinating Council
James Trilling
Senior Attorney, Federal Trade Commission Division of Privacy and Identity Protection
Ben Tyrell
Cybersecurity Task Force, U.S. Secret Service
Bill Wagg
Vendor Relationship Manager, thinkCSC
David Wilson 
Co-Chair, Privacy and Data Security, Kegler Brown
Leon Wilson
Chief of Digital Innovation & Chief Information Officer, Cleveland Foundation
Jonathan Witmer-Rich 
Joseph C. Hostetler-BakerHostetler Professor of Law, Cleveland-Marshall College of Law
Spence Witten
Vice President Global Sales, Lunar Line
Thomas F. Zych
Partner, Chair Privacy & Cybersecurity Practice, Thompson Hine
---
---
The Conference is presented in partnership with the Northeast Ohio CyberConsortium, the IoT Collaborative and the Laura and Alvin Siegal Lifelong Learning Program at CWRU.