print this
CSU Cleveland-Marshall College of Law is an iconic, 120-year-old student-centered law school that produces outstanding attorneys, judges, and civic and business leaders. Known for its longstanding commitment to providing opportunity—it was the first law school in Ohio to admit women and one of the first to admit minorities— C|M|LAW is also at the forefront of innovation. It created one of the first solo practice incubators in the country the first Master of Legal Studies (MLS) Degree in Northeast Ohio,. A robust Engaged Learning curriculum connects students to real world legal work complementing rigorous academics. Innovative "pop-up practicums" offer students short-term,, hands-on opportunities to work on legal issues important to them. Civic-minded and hardworking, our C|M|LAW students clock 11,000 hours of volunteer work each year through our Pro Bono program and gain lawyering skills while making countless lives better through our Clinics. 
C|M|LAW offers education in growing industries through its Center for Cybersecurity and Privacy Protection, Center for Health Law and Policy , Global Space Law Center, Criminal Justice Center, and numerous areas of expertise. In addition to traditional J.D. students, C|M|LAW's MLS and professional certificate programs offer a variety of educational options for professionals outside the traditional legal field.
Cleveland-Marshall is a located in the heart of downtown Cleveland – a city attracting positive national attention and rising in popularity among young professionals for its exciting entertainment, lifestyle and cultural and business opportunities. The city also boasts one of the largest legal markets in the country and is home to leading healthcare organizations with international prominence. All of it adding up to a great place to live, work and study.
WHY Choose C|M|LAW?
Exciting downtown location, steps from courts and law firms, give C|M|LAW students an edge on hands-on legal practice
Affordable tuition and cost of living 
Non-Ohio residents pay in-state tuition 
Scholarships guaranteed each year by maintaining good academic standing
High Bar Exam passage rates
One of the strongest and most engaged alumni networks of any law school provides immeasurable support from your first year of law school to your ongoing career
Student-centered attention from faculty and academic success programs help you become successful from the day you enter law school
Academic advising through Career Planning keeps you on track to reach your employment goals
Technologically advanced trial courtroom and state-of-the-art learning commons 
Flexible full-time, part-time day and part-time evening study options
Solo Practice Incubator offers modern office space and support to help graduates launch solo firms 
The convertible J.D. option converts your first year of study to a full Master of Legal Studies Degree, generally with only one additional class, if after the first year you decide law school isn't for you 
---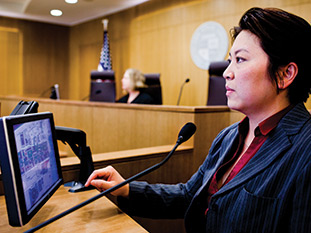 C|M|LAW is proving that a school of opportunity can also be a school of excellence.
Students are exposed to state-of-the art litigation technology in the Trial Courtroom, the most technologically advanced learning courtroom in Ohio and one of the first in the country. The Center for Health Law and Policy directly con­nects students to the expansive medical network of the region, and the Center fo Cybersecurity and Privacy Protection and the new Global Space Law Center prepare students for one of the fastest growing employment fields. Our Criminal Justice Center offers a strong curriculum and connection to the law school's extensive population of alumni practitioners and judges.
The school is one of the first law schools nationally to offer strate­gic support for entrepreneurial students.
The Solo Practice Incubator offers training, support, and guidance to students interested in starting their own practice, The incubator is one of less than 10 nationwide housed on a law school campus and will supply office space, resources and support for graduate entrepreneurs.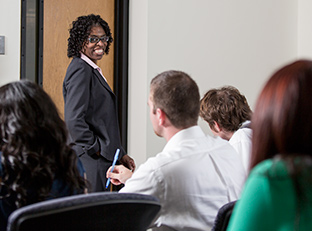 Accomplished faculty provide a solid academic foundation and bring a broad range of scholarly and practical expertise.
Cleveland-Marshall employs influential faculty who are knowledgeable on the latest issues facing their field of specialty, because they are among the leading researches and practitioners in those fields. Teaching is the first priority for the faculty, who exhibit exceptional dedication and a willingness to work with individual students. Cleveland-Marshall faculty members are experts in relevant and rapidly growing areas of practice, including environmental, healthcare and space law.
Cleveland-Marshall's concentration is on the student.
Students choose their own path, and are encouraged to create a mix of classes and engagement experiences to best prepare to work in the litigation, administrative or advocacy career of their choosing. More than 30 student organizations, including three well-respected student journals, expand on classroom studies and develop students further in specialized areas of their choosing.
The practical application of classroom studies is a focus starting from the very first week of law school.
During orientation week, students are exposed to law in action during an innovated engaged learning day. Every student is guaranteed to receive practical experience before graduating through an engaged learning requirement, fulfilled through a clinic or externship. Along the way, students listen to and engage with thought-leaders who provide exceptional insights from years spent in their given field.
Cleveland-Marshall fosters a culture of collaboration.
C|M|LAW students learn the valuable workplace skills of teamwork and collaboration in the new Rawson Learning Commons. The Commons is a state-of-the-art space featuring study rooms with smart monitors, study pods for group discussion, and technology that facilitates file sharing and collaboration.
Central to Cleveland-Marshall's success is its strong alumni base, arguably one of the most engaged and supportive legal networks in the nation.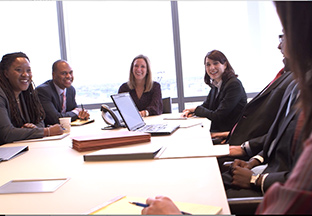 Cleveland-Marshall alumni are represented in judicial seats in local state and federal levels, and as prominent business leaders, public servants and general counsel in all fifty states and internationally. Talented alumni routinely give back to the school and help guide and mentor our students into the legal profession.
The Cleveland-Marshall family of alumni is a lifelong resource of practitioners who are integral in helping one another reach their dreams. The exceptional Office of Career Planning is available for not just for graduates obtaining their first position, but to help alumni grow throughout their careers. Graduates interested in an entrepreneurial setting are offered invaluable strategic support, including the innovative new Solo Practice Incubator.