Associate Professor of Law
 
Office: UR 317
p. 216-687-5165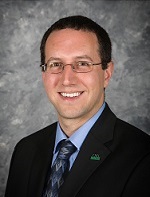 ---
Education:
J.D., University of Michigan
B.A., University of Michigan
Bio:
Joseph Mead is an Associate Professor with a joint appointment at Cleveland-Marshall College of Law and Maxine Goodman Levin College of Urban Affairs. Professor Mead studies nonprofit and constitutional law, housing policy, and policy responses to poverty. His scholarship has appeared in numerous peer-reviewed and law review journals. This research has been cited by national news media, the Congressional Research Service, and federal and state appellate courts, driving policy changes across Ohio. He is also a contributing editor on the Nonprofit Law Professor Blog.
In addition to teaching and research, Professor Mead is active in the community. He has handled several precedent-setting constitutional cases in cooperation with the American Civil Liberties Union of Ohio, where he also serves as Associate General Counsel. In 2017, he was named Advocate of the Year by the Northeast Ohio Coalition for the Homeless.
Before joining Cleveland State, Professor Mead served as an Honors Program Trial Attorney for the United States Department of Justice in Washington DC. As a Trial Attorney, he defended the constitutionality of federal statutes and advised and represented the United States in constitutional and other complex litigation across the country. He clerked for Judge Cornelia Kennedy of the United States Court of Appeals for the Sixth Circuit and Judge David Lawson of the United States District Court for the Eastern District of Michigan. He has also worked for a disability rights law firm, for social services nonprofits, and in state and local government. He received his juris doctor, magna cum laude, from the University of Michigan Law School, where he was named to the Order of the Coif.
Professional Affiliations:
Scholar Strategy Network (SSN)
Admitted to practice law (active) in:
State of Ohio
State of Michigan
United States Court of Appeals for the Sixth Circuit
United States District Court for the Northern District of Ohio
United States District Court for the Southern District of Ohio
United States District Court for the Eastern District of Michigan
United States District Court for the Western District of Michigan
Research Areas:
Nonprofit, Nonprofits, Nonprofit Governance, Nonprofit Law, Not-For-Profit, Charity, Poverty, Homelessness, Volunteerism, Administrative Law, Government Litigation, Constitutional Law, First Amendment