Posted 2018-10-02 5:49pm
print this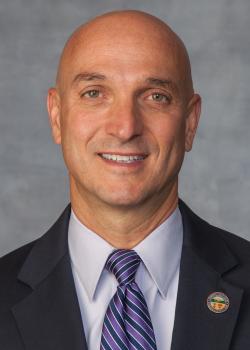 THE HONORABLE JOHN J. RUSSO is the Administrative and Presiding Judge of the Court of Common Pleas of Ohio in Cuyahoga County, which serves the Greater Cleveland Metropolitan Area. It is home to 1.2 million people (2010 census). Judge Russo has been unanimously elected by his colleagues to lead the Court every year since November 2013. He is responsible for appointing committees, coordinating the development of Court policies, and overseeing the administration and dockets of the General Division, the highest-level trial court in the state.
In addition to being the Administrative & Presiding Judge, he has chaired or participated in numerous justice system boards and committees since beginning his judicial career on the Common Pleas Court. They include: 2nd Vice-Chair of the Ohio Judicial Conference; Co-Chairman, Ohio Judicial Conference Court Administration Committee; Chair, Lawyers Fund for Client Protection (appointed by the Ohio Supreme Court); Trustee, Cleveland Marshall Law Alumni Association; Chairperson, Cuyahoga County Security Committee; Trustee, Cleveland Metropolitan Bar Association; Trustee, Westshore Bar Association; Committee Person for the Judicial Advisory Committee; Committee Person for the Trends in State Court Committee (appointed by the National Center for State Courts); Member of the Public Health Committee; Member of the Death Penalty Task Force; Member of the Board of Commissioners of the Clients Security Fund of Ohio (all being appointed by the Chief Justice of Ohio); and Past President, Legal Eagles St. Edward High School Community.
In 2016, Judge Russo served as president of the National Association for Presiding Judges and Court Executive Officers (NAPCO), a national organization of court chief judges and court executives. Judge Russo brought the inaugural annual meeting to Cleveland that same year.
In addition, Judge Russo has taught at numerous court conclaves, judges' conferences, community programs, and bar association meetings, including the National Center for State Courts; the Ohio Supreme Court Judicial College; the Ohio Common Pleas Judges Association; the Ohio Association for Justice; the National Business Institute; the Ohio Association of Civil Trial Attorneys; the Cleveland Metropolitan Bar Association; the Cleveland Marshall Alumni Association, and St. Edward High School.
He is a member of the Ohio State Bar Association, Cuyahoga Metropolitan Bar Association, Westshore Bar Association and Cleveland Marshall Law Alumni Association. Prior to the bench, Judge Russo was a civil and criminal litigator for 12 years in his private practice. After earning a Bachelor of Science in Business Administration degree from John Carroll University, he received his Juris Doctor degree from Cleveland-Marshall College of Law, where he currently serves as an Adjunct Professor.