Posted 2019-04-17 1:04pm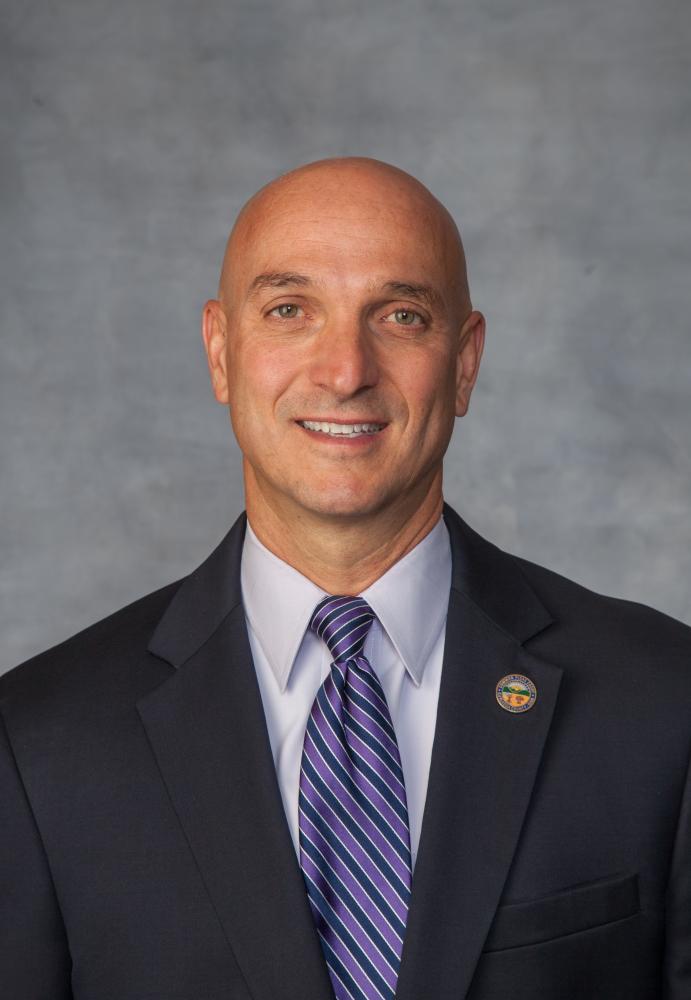 CMLAA Alumni of the Year recipient Judge John J. Russo '92 comes from a large, close-knit family where he was one of nine children. Having learned the importance of hard work, giving back family from their parents, all nine siblings went on to unique career paths, with John choosing a career in law. After 12 years in private practice as a civil and criminal litigator, he was elected to the Court of Common Pleas Bench in 2005. Since 2013, he has been Administrative and Presiding Judge of the Court, having been unanimously elected by his colleagues each year to serve in that capacity.
When it came to choosing a career, Judge Russo was interested in three options – lawyer, teacher or priest. He fondly recalls one of those options being eliminated when he met his wife Karen and fell in love. Judge Russo ultimately chose law and feels it has allowed him the opportunity to experience the best of all three avenues.
"After a good career as an attorney, I still felt a spiritual calling to serve people, and being a judge was a way I could do that," explained Judge Russo. "Now, as a lawyer and judge, I have the opportunity to also teach in the classroom. You could say I have the best of all three worlds."
Judge Russo teaches a criminal procedure course annually as an adjunct professor at his alma mater, Cleveland-Marshall College of Law. He credits his time as a student at C|M|LAW with pushing him out of his comfort zone and teaching him to challenge himself. As a law student, he found mentors who steered him in the right direction and hopes he can have a similar impact with his current students.
"The greatest lessons I learned in law came from the grizzled veterans of the business," said Russo. "I hope my students don't see ME as a grizzled veteran, but I do have decades of experience to share. Being a good attorney is a result of mentor relationships and guidance, and hopefully I can give back a little of what I have received."
Being a good listener is a quality that helps Judge Russo offer guidance to current C|M|LAW students. His ability to be a good listener, openness to change and determination to fight for what he believes is right demonstrate the trust and belief his fellow judges have shown in him by electing him Administrative and Presiding Judge of the Court for six straight years. As for what keeps Judge Russo motivated to be the best possible judge, it is the satisfaction of concluding a case in an equitable manner.
"Every time I get to help someone who has found themselves in legal trouble is a highlight," said Judge Russo. "When someone's case wraps up and they ask me for a hug and tell me that I made a difference in their life, that's a highlight I never get tired of."
Judge Russo has been heavily involved throughout the city, county and region in instituting bail reforms. He commissioned and spearheaded the Cuyahoga County Bail Task Force, sits on the Ohio Bail Reform Task Force, and recently formed the Criminal Justice Council. While this issue has become a hot-button topic among the public with significant media attention over the last year, he notes that it is something the Court has worked on for several years by instituting a number of programs designed to reduce jail time and increase access to an attorney. He ultimately wants a system where ability to pay is never an issue when it comes to bail.
In addition, Judge Russo has been involved with numerous justice system boards and committees on the local, state and national level since beginning his judicial career. In 2016, Judge Russo served as president of the National Association for Presiding Judges and Court Executive Officers (NAPCO), a national organization of court chief judges and court executives. He has also taught at numerous court conclaves, judges' conferences, community programs and bar association meetings, including the National Center for State Courts, the Ohio Supreme Court Judicial College, the Ohio Common Pleas Judges Association, the Ohio Association for Justice, the National Business Institute, the Ohio Association of Civil Trial Attorneys, the Cleveland Metropolitan Bar Association, the Cleveland Marshall Law Alumni Association and St. Edward High School.
__
What does being named CMLAA Alumni of the Year mean to you?
"No one should ever start a career, or journey down life's path, with a goal of collecting accolades. Recognition, if it comes, means that you did the very best you could with the opportunities you are provided. C|M|LAW gave me solid footing for my legal journey. For that opportunity, even more so than this recognition, I am grateful. I don't just say I graduated from Cleveland-Marshall, I say it with PRIDE."