Posted 2017-03-21 11:52am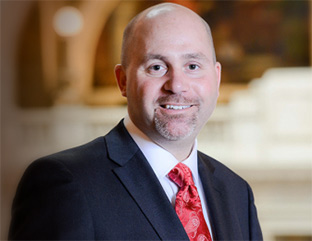 CMLAA Alumni of the Year recipient Ian Friedman knew he wanted to be a lawyer from a young age. A sense of fairness and a determination to stand up for those in need drew the 1997 Cleveland-Marshall College of Law graduate to the profession and sparked his interest in criminal defense.
"I never had much tolerance for a bully," explained Friedman. "There are good people caught up in the criminal justice system and those people need their lawyers to push back against it. That is what I am supposed to do."
Friedman has established his reputation as an attorney fighting for justice during a 20-year career in private practice. Priding himself on an aggressive, out-of-the box courtroom style, Friedman's Ohio firms have served as chief legal counsel on behalf of individuals and entities from coast to coast and as far as Europe, Asia, and South America. Friedman has received numerous honors for his work, including being named the first Ohio Association of Criminal Defense Lawyers' (OACDL) "Lawyer of the Year" in 2011.
The award came after Friedman spearheaded a major change to criminal law in Ohio. An "Open Discovery" rule was enacted in 2010, stating accused persons must be provided all evidence intended to be introduced by the government against them at trial. Friedman had worked on the reform in Ohio for five years.
"Open discovery had to be more than a criminal lawyer issue – it had to be a people issue," Friedman said. "The fact that people were being convicted without knowing the extent of their case was incomprehensible. There is no room for any gamesmanship in the criminal justice system when a life is at stake."
In addition to helping defendants, Friedman has also been a key resource for young attorneys as they enter the profession. He established the Cleveland Metropolitan Bar Association's New Lawyer Bootcamp, an annual event where judges, lawyers and professionals help the inexperienced lawyers navigate their profession. The idea stemmed from Friedman hearing from newer lawyers that found themselves the subject of avoidable situations.
Much of Friedman's continued contact with law students and recent graduates comes from his nine years working as an adjunct professor at Cleveland-Marshall. As an active practitioner, he brings a real-world dynamic to his classes.
Teaching is just one part of Friedman's continued involvement with his alma mater, where he has served as a past president of the CMLAA and currently sits on the organization's Board of Trustees.
"My inspiration for staying involved with CMLAW and CMLAA is that I love being around other good lawyers and feel compelled to prepare our next generation of lawyers," said Friedman. "A good lawyer is not just someone who only wins their cases but someone who gives back to the profession and community. Those lawyers, as I define them, are at CMLAW and CMLAA giving back."
The course Friedman currently teaches at C|M|LAW, Computers and Law, covers cybercrime, a growing area of law that is becoming an increasing area of interest for him. He feels this is an important growth area for students where they can have a great advantage over veteran practitioners because of their superior understanding of technology. As a practitioner, he enjoys cybercrime because it is an area of law where precedent is constantly being established and cybercrime concerns bleed into so many areas of practice.
Friedman got a new perspective on his practice – as well as on all aspects of his life – after suffering a serious motorcycle accident in 2011 that left him permanently changed. Despite the scarring nature of the accident, the accomplished attorney actually sees it as the best thing that has ever happened to him.
"The old adage that 'one should slow down to smell the roses' seems very fitting in my situation," said Friedman. "Before the accident, I moved tremendously fast and was focused on winning my cases at any expense. That sole speed cannot be maintained without sacrificing so many other important areas of life. The positive impact the accident had upon my personal life cannot be measured. I've become a better father, husband, friend and student of life."
What does it mean to receive this honor?
For three reasons, this is a tremendous honor for me. First, it is from my peers. Second, there are so many lawyers in our profession who continue to contribute and make differences within the community. To stand out among so many caring lawyers is humbling. Third, I have always believed in and stood behind C|M|LAW.