Posted 2017-03-21 11:50am
print this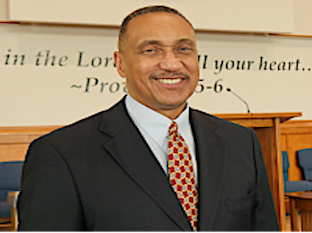 CMLAA Alumni of the Year recipient Reverend Doctor Stephen Rowan's mission in life is to support others. That calling has taken the 1980 Cleveland-Marshall College of Law graduate on a unique, successful and fulfilling career path from the law to a spiritual calling.
With a background in sociology and public administration, and while working as director of operations for the Western Reserve Area Agency on Aging, Rowan decided to pursue a legal career. He felt law was a tangential field to public administration where he could still assist others. Shortly after graduation, Rowan put his legal education to use in government and became Chief Deputy County Administrator of Cuyahoga County.
"Law school helped me view and understand life through a wider lens and to navigate the three branches of County Government," explained Rowan.
After 11 years serving Cuyahoga County, Rowan joined the law firm Ulmer & Berne as partner. He specialized in non-profit law and minority and female businesses, and was responsible for the creation of the firm's public law group. He would move on to the Cleveland Foundation, the world's first, and still one of the largest, community foundation, as assistant director of development. He would go on to serve multiple roles with the Foundation, as program officer for faith-based and "digital divide" programs, and director of the economic development grant making. In 1999, Rowan decided the timing was right for a major career overhaul, accepting the position as senior pastor at Bethany Baptist Church in Cleveland.
"I was doing just fine in my professional career but I saw my call to the ministry as an ongoing responsibility that was just part of my DNA," said Rowan.
The Bethany Baptist Church is steeped in tradition, having had just five pastors in its 91 years. The church's longest tenured pastor immediately proceeded Rowan – his father, Reverend Dr. A.T. Rowan. Deeply rooted in the church from a young age, Stephen Rowan has been a member of the church for over 50 years and had previously served the church in numberous capacities, including in the roles of associate minister, church administrator, Sunday school teacher, trustee, director of the male chorus and church musician. Rowan's father was his confidant, inspiration and role model, and when the opportunity arose to step into his shoes, it was an opportunity he could not turn down.
"I thought the hours were long in law, but they're longer in the ministry because you're on 24/7 call," noted Rowan about the contrasts in his professions. "There is also often a clash between the laws of man and the laws of God."
In addition to his extensive work in the community as part of the ministry, Rowan maintains prominent leadership roles in numberous community organizations. He has served on the Cleveland Foundation's Board of Directors for the past eight years and was appointed board chairman in 2016. The reverend also co-chairs the community engagement committee of the Community Advisory Board of the NEOMED-CSU Partnership for Urban Health and serves on the Cleveland Clinic Ethics Committee.
As a community leader, Rowan abides by the guiding principle of the "Golden Rule," to do unto others as you would have them do unto you. "This entails being a good listener, open to the opinions and views of others, with the hope of finding common ground somewhere along the way," he explained. "I firmly believe that when we give of ourselves, life gives back in a positive way."
What does it mean to receive this honor?
Receiving the award means that there are many who appreciate the things I have been able to accomplish during my professional career. I am grateful that the CMLAA would select me for the entire body of work God has allowed me to do in the Greater Cleveland Community.