Posted 2011-06-03 4:03pm
print this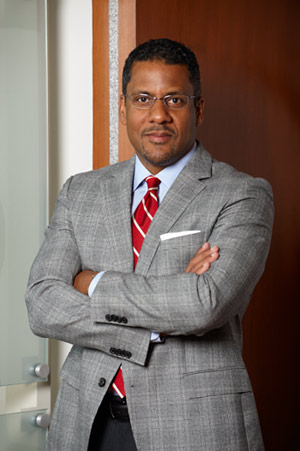 Dean Craig M. Boise
A familiar face to many in the Cleveland community, Craig Boise is happy to be back in the city, and is looking forward to leading a law school whose mission strikes close to home.
The former Kansas City police officer, who remembers studying for the LSAT by flashlight in an unmarked police car, will now lead an institution that is well-known for being a school of opportunity, and as he is quick to point out, also has a growing national reputation for excellence that he intends to amplify.
"I'm proud that I can be part of an institution making an impact through its graduates--in Cleveland, in Ohio, and across the country. In many cases, these are people who have overcome significant obstacles to obtain their legal education and they are an inspiration."
While Boise gives credit to the opportunities in his life, including learning law as a nontraditional student, he is driven by academic rigor, and he has a strong belief that in order for a school to truly be a school of opportunity, it has to first be a school of excellence.
And Boise is well prepared to lead the way. An outstanding legal scholar and academician, he comes to C|M|LAW from DePaul University College of Law, where he directed the Graduate Tax Law program and served as director of the Institute for Offshore Financial Center Studies. Prior to joining the DePaul faculty, he was assistant, then associate professor of Law at Case Western Reserve University School of Law from 2003 to 2009, where he was also associate director of the Center for Business Law and Regulation. Before coming to academia, he worked in private practice for seven years, including as a senior tax associate in the Cleveland office of Thompson Hine from 1999 to 2003. On July 1, 2011, he will become the 14th dean of Cleveland-Marshall, and the law school's first African-American dean.
Becoming a lawyer was far down the list of popular career choices in the small farming community near Kansas City, Missouri, where Boise grew up. "People were generally suspicious of lawyers," Boise said. "Can you be a lawyer and still be honest?" he remembers his mother asking him, with a totally straight face, when he told her he was going to law school.
He initially studied to be a concert pianist, and while talented, a prospective life as a starving artist held little appeal for him. When the Kansas City police department announced it was hiring, he jumped at the opportunity for a good job with benefits. He worked for the department for five years, including a stint with the SWAT team. The 4th, 5th and 6th Amendment constitutional law cases that he learned in the police academy sparked an interest in law, which led him to go back to college and finish his BA in Political Science at the University of Missouri, and from there, to obtain his JD at the University of Chicago Law School. He later earned his LLM in Taxation from New York University School of Law.
A prolific author in the field of tax law, Boise can see enormous strength in C|M|LAW's faculty of engaged scholars. When the scholarly work is combined with the school's commitment to teaching community service and practical skills, Boise finds "C|M|LAW well-positioned to produce world-class thought leaders who are the best litigators and transactional lawyers in their fields. We will continue to forge a link between scholarship and practice, and I believe we will have a powerful influence in the legal world."
He is also impressed with the C|M|LAW alumni who form the foundation of a thriving legal network. "Our alumni play major roles as employers, mentors, judges on moot court, adjunct faculty, and advisors on issues like curriculum reform. We value their contributions and will continue to develop ways in which our alums can be involved in the school and help shape new generations of lawyers."
Boise feels C|MLAW graduates have many reasons to be proud. "They are part of an institution that has planted so many law grads back into the community, in places of prominence—mayors, legislators, police chiefs, judges at the state and federal level, business leaders—everywhere you turn a C|M| LAW graduate is doing something amazing."
If an early theme has developed in his vision for the school to be a leader in 21st century legal education, it seems to be one of breaking down limitations, evolving with lines that have already been blurred this century by a vastly changed legal, economic and societal landscape. Boise's early vision is clear, and in it no dichotomy exists between producing both influential scholarship and practice-ready students; he sees no tension between the twin goals of being a school of opportunity and a school of excellence. "We're going to get better at what we already do and let people know about it. We are at the front end of the journey but we are aimed in the right direction—in keeping with its tradition, Cleveland-Marshall will continue to provide an opportunity for remarkable students to become outstanding lawyers. "
"People wrongly assume that those who need opportunity are less talented than those who don't—life simply gives some people more difficult circumstances to deal with in the process of achieving their goals. Our graduates demonstrate that opportunity can result in lives of excellence."
This article first appeared in
Law Notes
, the magazine of the Cleveland-Marshall Law Alumni Association.