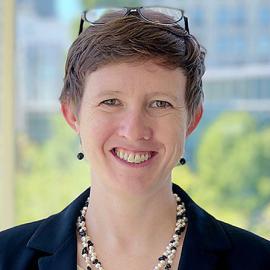 Abigail R. Moncrieff
Associate Professor of Law and Political Science and Co-Director, Center for Health Law and Policy
---
Primary Information
BIO
Dr. Moncrieff's research draws on a wide range of disciplines to illuminate legal, political, and social issues at the intersection of health law and constitutional law. She has published articles on health law and constitutional theory in Columbia Law Review, U. Penn Law Review, and Boston University Law Review, among others, and she is currently working on an ambitious reconceptualization of the American constitutional order in her book-in-progress, Constitutional Technocracy.
At C|M Law and CSU, Dr. Moncrieff teaches the introductory Constitutional Law course to upper-level students as well as first-year Contracts. Her seminars focus on the concept of freedom in American law and political theory and on constitutional issues in healthcare reform. Dr. Moncrieff is also the co-director of the Center for Health Law and Policy at C|M Law, where she develops programming on healthcare law and policy for the broader Cleveland community. 
Prior to joining the C|M Law and CSU faculties, Dr. Moncrieff was a Visiting Scholar at University of Texas Law School. She has previously taught at Harvard Law School, University of Pennsylvania Law School, N.Y.U. Law School, University of Texas Department of Government, Boston University Law School, and St. John's University Law School. Dr. Moncrieff holds a Ph.D. in Government from University of Texas at Austin, a J.D. from University of Chicago, and a B.A. from Wellesley College.