Image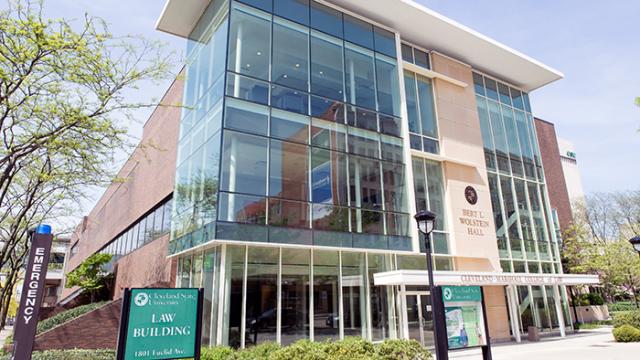 We are an iconic, 125-year-old student-centered law school committed to both excellence and opportunity, social justice and producing lawyers who are also leaders.
In the most recent U.S. News and World Reports Rankings (2024) CSU|LAW is the top-ranked public law school in northern Ohio. Additionally, CSU|LAW ranked in the top 100 in four specialty areas:
Health Care Law
Intellectual Property Law 
International Law 
Legal writing 
PreLaw Magazine has named CSU|LAW a top law school for:
Health Law
Business Law
Criminal Law
Tax Law
International Law
CSU|LAW has a rich history and commitment to innovation and forward-thinking education.
We created one of the first solo practice incubators in the country and the first Master of Legal Studies (MLS) Degree in Northeast Ohio. The Groundbreaking P. Kelly Tompkins Leadership in Law program is one of he first in the nation to provide core leadership training to law students.
A robust, engaged learning curriculum connects students to real world legal work complementing rigorous academics. Innovative "pop-up practicums" offer students short-term, hands-on opportunities to work on legal issues important to them. Through our Pro Bono program our CSU|LAW students clock 11,000 hours of volunteer work each year, and gain lawyering skills while assisting people in need through our Clinics.
CSU|LAW offers education in growing industries through its Center for Cybersecurity and Privacy Protection, Center for Health Law and Policy, Criminal Justice Center, Global Space Law Center, IP and First Amendment and numerous areas of expertise.
CSU|LAW graduates have a history that is strong in social justice, leading at the forefront of major social movements including women's suffrage and civil rights. Committed to diversity, we have admitted women since we were founded in 1897, and were one of the first law schools in Ohio to admit African Americans. Today, our students learn to recognize injustice hands-on work for reform through our Criminal Justice Center, multiple opportunities to help clients in our clinics, and through the school's  commitment to fight for racial and social justice.
In addition to traditional JD studies, CSU|LAW's MLS and professional certificate programs offer a variety of educational options for professionals outside the traditional legal field. In Fall 2023, CSU|LAW welcomes our first class of online 1L students, becoming one of the first  accredited online JD programs in the country.
We are a located in the heart of downtown Cleveland – a city rising in popularity among young professionals for its exciting entertainment, lifestyle, and cultural and business opportunities. Cleveland boasts one of the largest legal markets in the country, along with thriving sports and entertainment industries, and leading health care organizations with international prominence.
WHY Choose Csu|LAW?
Affordable tuition and cost of living
Non-Ohio residents pay in-state tuition
Scholarships guaranteed each year by maintaining good academic standing
Strategic Bar Passage program including a partnership with Bar Preparation provider BARBRI
One of the strongest and most engaged alumni networks of any law school provides immeasurable support from your first year of law school throughout your  career
Student-centered attention from faculty and academic success programs help you become successful from the day you enter law school
Comprehensive leadership training
Technologically advanced classrooms, trial courtroom, and state-of-the-art learning commons
Flexible full-time, part-time day and part-time evening study options
The convertible J.D. option converts your first year of study to a full Master of Legal Studies Degree, generally with only one additional class, if after the first year you decide law school isn't for you