Featured image
Image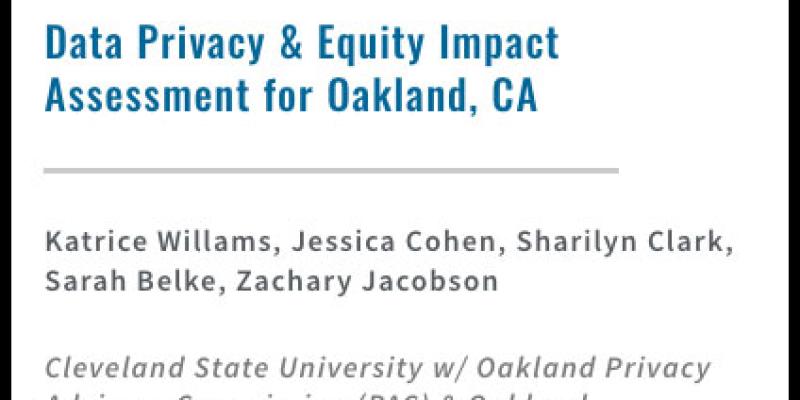 CSU|LAW Students Win National Data Privacy Competition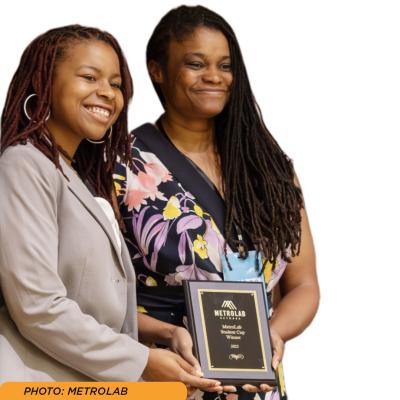 CSU|LAW 3L Sharilyn Clark and Katrice Williams '23 brought home the winning prize in the MetroLab Network 2023 Student Cup Competition held in Portland this summer. The competition was established in 2020 to recognize, amplify, and support impactful collaborations between students and city governments.
Katrice and Sharilyn represented Cleveland State University's interdisciplinary team, which included Jessica Cohen '23, 3L Zachary Jacobson and CSU Master of Social Work student Sarah Behlke . The MetroLab Network selected the CSU team as finalists to participate in a featured session of the MetroLab Network's annual conference and present the analysis they developed for the city of Oakland's Privacy Advisory Commission examining data privacy and equity risks in the use of an app-based parking payment system. 
The team's project is the outgrowth of their participation in the Data Privacy & Equity Assessment Clinic, supported by the CSU TECH Hub, along with the IoT Collaborative, and a $90,000 research grant from the Public-Interest Technology University Network (PIT-UN).
The clinic was co-taught by Brian Ray, J.D., professor of law and Dr. Patricia Stoddard-Dare, professor of social work with Dr. Chansu Yu, professor of electrical engineering and computer science—all co-directors of the TECH Hub—and several national experts.
Image
For the class, the students reviewed and analyzed a proposal by the Oakland, California Department of Transportation to expand an app-based mobile parking payment system run by several private vendors. Last December, they presented their analysis and recommendations to representatives from the City of Oakland California Privacy Advisory Commission and the Oakland Department of Transportation.
Their recommendations included incorporating restrictions based on California's consumer privacy law on how the vendors can use consumer data they collect, and in establishing a more equitable system for citation payments.
"This community engagement project allowed students to think deeply about issues of equity and privacy when new technologies are being considered for deployment by city government," said Brian Ray, who is also director of the Center for Cybersecurity and Privacy Protection.
"It was impressive to see this interdisciplinary group of students work together on a complicated project that will have real benefits for Oakland residents and beyond."
MetroLab is an international network of researchers and local government leaders working to implement and scale innovative solutions in cities. Cleveland State University, Case Western Reserve University and Cuyahoga County are members. MetroLab established the Student Cup competition in 2020 to recognize, amplify and support impactful collaboration among students and governments on civic technology, data and innovation projects.
About the CSU TECH Hub
The CSU TECH Hub is a multidisciplinary center focused on the intersection of Technology, Education, Community, and Health. The TECH Hub exists to encourage and support dialogue, learning and the pursuit of research related to advanced technology and its role in society and make a real-world impact through meaningful community engagement that advances inclusive innovation and talent development.
It is one of two strategic hubs formed through the IoT Collaborative, a partnership between CSU and CWRU made possible by support from The Cleveland Foundation. The goal of the IoT Collaborative is to bring together expertise and resources of both universities, leveraging complementary strengths to drive research, education and engagement that harnesses the Internet of Things to improve the quality of life for Greater Cleveland residents.
Image