Image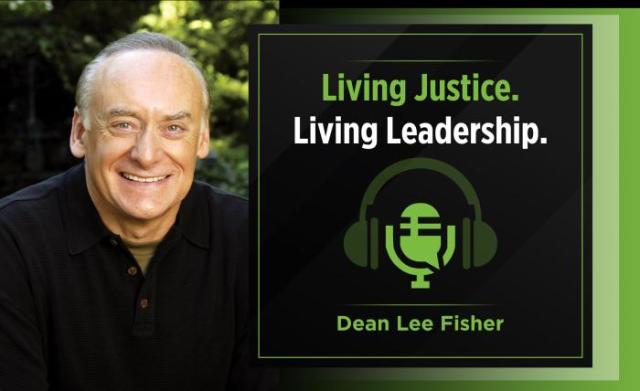 In his bi-weekly podcast, Cleveland State University College of Law Dean Lee Fisher brings a unique perspective from a leadership career spanning the public, private, nonprofit and academic sectors. As a former Ohio Lt. Governor, Attorney General, state legislator, nonprofit President/CEO, and law firm partner, he has come to believe that change happens at the speed of leadership and justice.
He interviews guests from current and former U.S. Senators, Governors, Ohio Supreme Court Justices, CEOs, and lawyers to disrupters, changemakers, and innovators. They all have one thing in common – they are leaders and advocates for justice. 
CSU College of Law's mission is Learn Law Live Justice. We teach our students not only to be great lawyers, but also to be great leaders who live justice every day. The Living Justice Living Leadership podcast seeks to inspire listeners to do the same. 
Available on Apple Podcasts, Spotify and all major podcast platforms.
---
June 28, 2023 • Episodes 22 & 23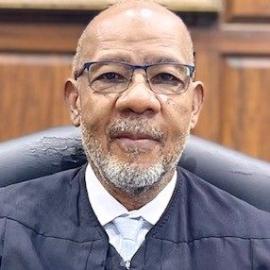 Hon. Clifton Newman '76
Judge Clifton Newman, CSU|LAW '76, gained wide public acclaim when he presided over the Alex Murdaugh murder case in early 2023. A two-time alumnus of Cleveland State University, he has served as a South Carolina Circuit Court Judge for twenty-three years. His legal career began in Ohio, where he formed Belcher and Newman, PA prior to returning to his native South Carolina where he practiced civil and criminal prosecution. He has presided over numerous high-profile civil and criminal cases including The State v. Michael Slager, a police shooting case; The State v. Nathaniel Rowland, the "Fake Uber" case; and most recently, The State v. Richard Alexander Murdaugh. He is a Business Court Judge and has served as Presiding Judge over a specialized docket of complex construction defect cases. He is a member of the SC Chief Justice's Commission on the Profession, the SC Commission on Judicial Conduct, and the John Belton O'Neall Inn of Court. He is the past President of the American College of Business Court Judges and Co-Chair of the Judges Initiative Committee of the Business Law Section of the ABA. He has served as a program faculty member of the National Judicial College. In addition to his judicial duties, he is an adjunct professor at the University of South Carolina School of Law. Judge Newman will be inducted into the CSU|LAW Hall of Fame November 3, 2023.
---
---
May 24, 2023 • Episode 21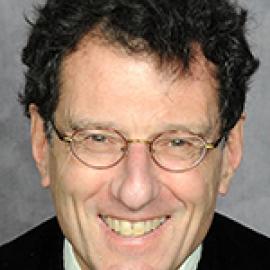 US District Judge Dan. A Polster
Dan Aaron Polster of the U.S. District Court for the Northern District of Ohio was nominated by President Bill Clinton in 1997 and received commission in 1998. Prior to serving as judge, he worked as a federal prosecutor in Cleveland for 22 years, first as a trial attorney with the U.S. Department of Justice Antitrust Division, and then for 16 years as an Assistant U.S. Attorney, handling fraud and corruption cases. In 2017, Judge Polster was asked to serve as the presiding judge in a series of federal lawsuits against opioid manufacturers and distributors. He has received many honors throughout his distinguished career, including Special Achievement Awards from the U.S. Department of Justice and a Special Commendation from the U.S. Department of Labor's Office of Inspector General. In addition to regular speaking engagements, Polster has taught at CSU|LAW since 2002 and is an inaugural inductee in the CSULAW Hall of Fame.
---
May 10, 2023 • Episode 20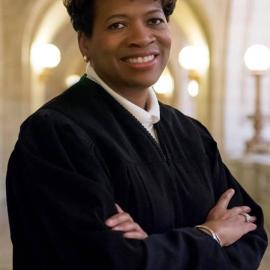 Ohio Supreme Court Justice Melody Stewart '88
Justice Stewart, a 1988 graduate of Cleveland State University College of Law, made history in November 2018 when she became the first black woman elected to Ohio's highest court. Before being elected to the Supreme Court of Ohio, Justice Stewart sat on Ohio's Eighth District Court of Appeals for 12 years.
Justice Stewart is distinguished for both her career in academia and in law. She earned her undergraduate degree from the University of Cincinnati College-Conservatory of Music, and as a law student, she was awarded a prestigious Patricia Roberts Harris Fellowship. Following graduation, she served as an assistant law director for the cities of Cleveland and East Cleveland, eventually returning to the law school in various capacities—as a lecturer, adjunct instructor, assistant dean and full-time faculty member. She also taught at the University of Toledo College of Law and Ursuline College and was director of student services at Case Western Reserve University School of Law. She earned her doctorate as a Mandel Leadership Fellow at the Mandel School of Applied Social Sciences at CWRU.
---
February 22, 2023 • Episodes 18 & 19
CHIEF OPERATING OFFICER OF FEDERAL STUDENT AID RICHARD CORDRAY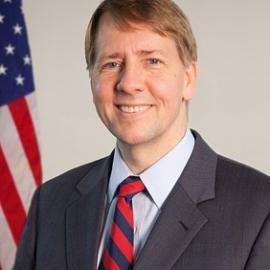 Richard Cordray served as Ohio Attorney General from 2008 - 2011, where he and his team recovered over $2 billion for Ohio's retirees, investors, and business owners and took major steps to protect consumers from fraudulent foreclosures and financial predators. In 2012, he was appointed by President Obama as the first Director of the Consumer Financial Protection Bureau (CFPB) serving in that position until 2017.
Earlier in his career, Cordray served as an Ohio State Representative and as the first Solicitor General in Ohio's history, appointed by Attorney General Lee Fisher.
In 2021, Cordray was selected by the U.S. Department of Education as the Chief Operating Officer of Federal Student Aid. Cordray is a graduate of Michigan State University and Oxford University, and received his Juris Doctorate from the University of Chicago Law School. He was Editor-in-Chief of the University of Chicago Law Review and later clerked for U.S. Supreme Court Justices, Byron White and Anthony Kennedy.
---
February 8, 2023 • Episodes 16 & 17
FORMER OHIO ATTORNEY GENERAL BETTY MONTGOMERY
Betty Montgomery began her legal career as a prosecutor, being elected as the Wood County Prosecuting Attorney in 1981, during which she was the only woman prosecuting attorney in the state. In 1989, she was elected as an Ohio State Senator for District 2 and was then elected as Ohio Attorney General in 1995. As Attorney General she dramatically increased state support for local law enforcement and rebuilt all of Ohio's crime labs, introducing DNA testing and 21st century technology to Ohio. She was subsequently elected as the Ohio Auditor of State in 2003. Montgomery was notably Ohio's first woman Attorney General and first woman Auditor of State. 
Betty Montgomery is now Of Counsel to Mac Murray & Shuster, focusing her practice on helping clients understand and meet their regulatory compliance obligations and representing them before state regulators across the country. She received her Bachelor of Arts from Bowling Green State University and her Juris Doctorate from University of Toledo College of Law in 1976.
---
January 25, 2023 • Episodes 14 & 15: 
TECHNOLOGY ENTREPRENUER STEVE POTASH '78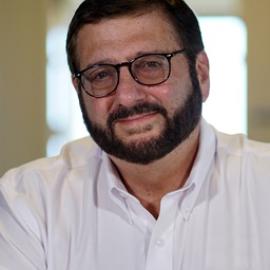 A true pioneer in the digital content and distribution industry, Steve was among the first to develop useful applications for digital books 
in the 1980s as a founding member of the Open eBook Forum (renamed International Digital Publishing Forum) and a contributing author for the industry standard ebook format EPUB specification. 
Steve is now the President and CEO of OverDrive, a company that he founded in 1986. OverDrive is now the leading worldwide digital platform for eBooks, audiobooks, and other digital media for libraries, schools, government agencies, corporate learning centers, and colleges and universities worldwide. In 2016, he was honored by the UJA-Federation of New York Publishing Division and in 2011 he received the first Ambassador Award from the publishing industry at BookExpo America. 
Steven Potash is a graduate of The Ohio State University and received his Juris Doctorate from Cleveland State University College of Law in 1978. Potash serves on the CSU|LAW Board of Visitors and is an inaugural member of the CSU|LAW Hall of Fame.  In 2017 he was honored with CSU's Distinguished Alumni Award.
---
November 30, 2022 • Episodes 12 & 13
CIVIL RIGHTS LAWYER AND AUTHOR TERRY GILBERT '73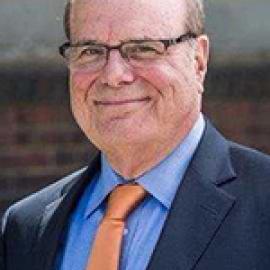 As a young lawyer, Gilbert's career as a civil rights attorney took shape with the opportunity to work on a high-profile national case, representing American Indians indicted as a result of the "Wounded Knee Operation." From there, Gilbert has continued to work as an activist for groups, including American Indians, as part of his practice. He also worked pro bono for a decade to re-open the Dr. Sam Sheppard case, bringing the case back into the national focus in the early '90s. In 1980 he founded Friedman & Gilbert with Gordon Friedman, his supervising law professor in a criminal defense clinic at CSU|LAW. The firm, now Friedman, Gilbert + Gerhardstein, has grown to be a nationally respected civil rights and criminal defense firm dedicated to the protection of human rights and fighting for justice for more than 45 years. In 2021, Gilbert published Trying Times, a book written with Carlo Wolf that chronicles his 50-year career as a lawyer of the people.  He received his Bachelor of Arts from Miami University and his Juris Doctorate from Cleveland State University College of Law in 1973. He was inducted into the CSU|LAW Hall of Fame in 2017.
---
November 16, 2022 • Episodes 10 & 11:
FORMER OHIO ATTORNEY GENERAL JIM PETRO AND NANCY PETRO              
CO-AUTHORS OF FALSE JUSTICE–EIGHT MYTHS THAT CONVICT THE INNOCENT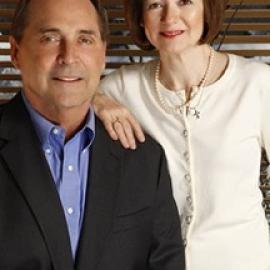 Jim Petro was elected Attorney General of Ohio in 2003 and was notably the first state Attorney General to intervene on behalf of an Innocence Project client, later becoming a pro bono lawyer for the Ohio Innocence Project (OIP). He worked with OIP Director Mark Godsey on Ohio's criminal justice reform law enacted in 2010. Jim Petro's legal career began with the prosecution of adult felony crimes as an Assistant Prosecutor in the office of Franklin County (Ohio) Prosecuting Attorney George Smith. His legal career has also included litigating cases from Mayor's Court to the United States Supreme Court. Jim Petro is a Denison University graduate and received his Juris Doctorate from Case Western Reserve University School of Law.
Nancy Petro, a Phi Beta Kappa Denison University graduate, followed a communications and business career with a focus on writing and advocacy related to wrongful conviction and criminal justice reform. She co-authored with Jim Petro, False Justice–Eight Myths that Convict the Innocent (Kaplan 2011). This book earned a 2011 Constitutional Commentary Award from the Constitution Project as well as the 2012 Media Award from the Northern California Innocence Project. Nancy Petro has also written for InBrief, The Magazine of Case Western Reserve School of Law, and the Ohio Innocence Project's Annual Review. She has also co-authored articles and book chapters about criminal justice and is a contributing editor of the Wrongful Convictions Blog.
---
November 2, 2022 • Episodes 8 & 9
OHIO SUPREME COURT JUSTICE MICHAEL P. DONNELLY '91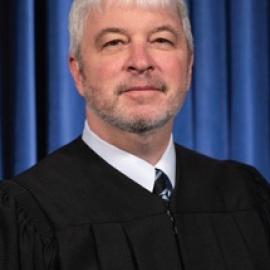 Justice Michael P. Donnelly is the 160th justice of the Supreme Court of Ohio. From 1992 until 1997, Justice Donnelly was an assistant Cuyahoga County Prosecutor. He then went on to practice civil litigation for seven years, representing plaintiffs and injured workers in asbestos litigation, personal injury lawsuits, and workers' compensation claims. Following that, he served as a judge on the Cuyahoga County Court of Common Pleas, General Division from 2005 to 2018. He was appointed by the chief justice to the Ohio Supreme Court Death Penalty Task Force in 2013. In addition, from 2010 to 2017, he was one of five judges on Cuyahoga County's Mental Health and Developmental Disabilities Court, which oversees criminal cases involving defendants who suffer from schizophrenia, schizophrenic disorder, or a developmental disability. 
He is a graduate of Cleveland's St. Ignatius High School and John Carroll University. Justice Donnelly earned his Juris Doctorate from Cleveland State University College of Law in 1991 and was inducted into the CSU|LAW Hall of Fame in 2021.
---
October 19, 2022 • Episodes 6 & 7
OHIO SUPREME COURT CHIEF JUSTICE MAUREEN O'CONNOR '80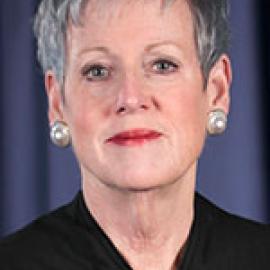 Maureen O'Connor is the 10th Chief Justice of the Ohio Supreme Court and the first woman to lead the Ohio judicial branch, where she has made justice system reform the centerpiece of her tenure. Chief Justice O'Connor has pursued an extensive agenda for strengthening the third branch of Ohio government in the following key areas: Racial Fairness; Conviction Reform; Bail Reform; Technology/Innovation; Debtor's Prisons; Grand Juries; Access to Justice; Judicial Elections; Death Penalty; and Continual Legal Education (CLE).
Prior to joining the Supreme Court of Ohio's bench, Justice O'Connor's distinguished career in public service and the law included service as a private lawyer, Magistrate, Common Pleas Court Judge, County Prosecutor, and Ohio Lt. Governor. She serves as president of the Conference of Chief Justices and chair of the National Center for State Courts. She earned her Juris Doctorate from Cleveland State University College of Law in 1980. She was inducted into to the first class of the CSU|LAW Hall of Fame and is a member of the CSU|LAW Board of Visitors.
---
October 5, 2022 • Episodes 4 & 5
FORMER OHIO GOVERNOR TED STRICKLAND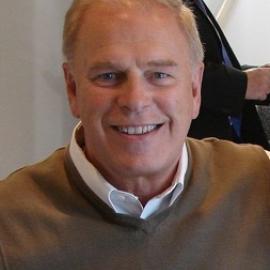 Ted Strickland served as the 68th governor of Ohio from 2007-2011. His prior public service career also includes six terms in the U.S. House of Repr
esentatives. As governor, he focused on improving the climate for businesses in Ohio and the creation of an initiative aimed at increasing infrastructure projects. He supported renewable energy production, and made education reform a hallmark of his administration.
His education and private sector career path has informed his approach to leadership and advocacy. He holds a master's degree in theological studies from Asbury Theological Seminary as well as  a master's degree in guidance counseling and a Ph.D. in psychology from the University of Kentucky. Professionally, he served as an ordained United Methodist Minister, a psychologist, a university professor ad a consulting psychologist at the Southern Ohio Correctional Facility.
After leaving office in 2011, he became a Fellow at the Institute of Politics at Harvard University and served as a United States Alternate Delegate to the 68th United Nations General Assembly.
---
September 21, 2022  •  Episodes 2 & 3
FORMER OHIO GOVERNOR ROBERT A. TAFT II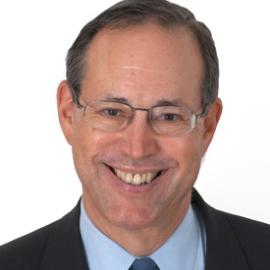 Bob Taft's career in public service began with volunteer teaching for the Peace Corps in East Africa. He went on to serve as a member of the Ohio House of Representatives, as a Hamilton County commissioner, and as Ohio's secretary of state. Taft was Ohio's 67th governor, serving from 1999 to 2007. As governor, he focused on improving the education system, attracting new, high paying tech jobs to Ohio, improving services for seniors, and restoring cities and rural communities. In 2007, he joined University of Dayton as a Distinguished Research Associate. He currently teaches Legislative Politics and Education Policy and helps oversee the Statehouse Civic Scholars summer internship program. He earned a bachelor's degree in government from Yale University,  his master's degree in government from Princeton University, and his Juris Doctorate from the University of Cincinnati Law School.
---
September 7, 2022 • Episode 1
US SENATOR SHERROD BROWN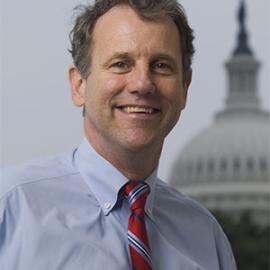 A lifelong Ohioan, Senator Sherrod Brown has spent his career fighting for the Dignity of Work – the idea that hard work should pay off for everyone, no matter who you are, where you live, or what kind of work you do.
He has held nearly 500 roundtables across Ohio, because he believes the best ideas don't come out of Washington – they come from conversations with Ohioans. Senator Brown serves as Chairman of the Senate Banking, Housing and Urban Affairs Committee. He also serves on the Finance Committee, the Agriculture Committee, and is the longest serving Ohioan on the Veterans' Affairs Committee.
Sherrod was born and raised in Mansfield, Ohio, where he earned his Eagle Scout award and spent summers working on his family's farm. He is married to author and Pulitzer Prize-winning columnist Connie Schultz. They live in Cleveland, Ohio, with their rescue dogs, Franklin and Walter, drive Jeeps made by union workers in Toledo, and have three daughters, a son, a daughter-in-law, three sons-in-law, and eight grandchildren.