Is the application process and program/curriculum different for the online MLS in Cybersecuirty and Data Privacy? 
Does the Master of Legal Studies (MLS) program make sense for me?
Is the MLS a general program or may I concentrate my studies in an area of law that interests me?
What are the degree requirements/Curriculum?
What is the tuition for the MLS Program?
Are MLS students eligible for financial aid?
Is the MLS a full-time or a part time degree program?
Can I take either Day or Evening courses in the MLS program?
Does the MLS prepare me to become a lawyer?
What are students and graduates saying?
---
Yes. To learn more about the program and apply to the MLS in Cybersecuirty and Data Privacy, click here. 
---
The MLS program is designed for non-lawyers who work regularly with laws and regulations and could benefit from a greater understanding of the law as it relates to their field in a current or future position. This includes persons in business, non-profit and government positions whose involvement with issues like contracts, financing, real estate transactions, or employment/labor negotiations frequently requires working with lawyers. Additionally, people who regularly encounter legal issues in their work; for example, employees who have to deal with complex state or federal regulations.
The MLS will also be of interest to people who have always wanted to learn more about the law, but do not want to be a lawyer or practice law.
Possible positions that benefit from an MLS (but not limited to):
Corporate and non-profit managers
Accountants
Auditors
Government employees
Realtors
Engineers
Science educators
Health care professionals
Court employees
Law enforcement personnel
Human resource professionals
Librarians
Information specialists
Journalists
Authors
Scholars
University Faculty
Secondary-school teachers
Researchers
Or anyone who wants to enhance their professional value or redirect their career, or who has always been interested in the law. 
The MLS Program tailors each student's education to his or her needs and interests. There are eight tracks from which an MLS student may choose, or, if you can't find any area that is of interest to you, you may design your own concentration. In addition, as an MLS student – regardless of your area of concentration – you will be provided with an Academic Advisor who will assist you in selecting the courses best suited for your needs.
Sample Tracks within the MLS Program:
Students may also work with a faculty advisor to build an individualized curriculum in other areas of interest. 
Cleveland-Marshall also offers a fully online MLS in Cyber Secuirty and Data Privacy. For more information, click here. 
The MLS degree will be awarded upon completion of 30 Semester credit hours. MLS students will be eligible to enroll in all first-year and upper-level courses at the College of Law.* Flexible day and evening class schedules allow you to juggle work and family responsibilities while you pursue your degree. Part-time students have a maximum of six years to complete the MLS degree.
All MLS students will be required to take Introduction to American Law (2 credits) in conjunction with Independent Legal Research (1 credit); and Legal Research and Writing (3 credits) in their first semester at C|M|LAW. Designed specially for MLS students, these courses cover the basic structure and function of U.S. legal institutions, the interaction of state and federal law in the American system of federalism, common law and case analysis, the American criminal and civil justice systems, trial by jury, and the American legal profession.
Additional Degree Requirements:

At least one of the J.D. first-year common law courses:
Civil Procedure, L513

Contracts, L511

Criminal Law, L506

Property, L514

Torts, L512
MLS students will be permitted to earn up to 8 credit hours towards the MLS degree by taking appropriate CSU graduate-level courses in a related field. To transfer the credits to the MLS degree, the student must earn a minimum grade of B, or Satisfactory, in the non-law graduate course.

* Some courses require prerequisites or will have limits on enrollment.
MLS students pay graduate tuition rate. Graduate tuition is $616.50 per credit hour for Ohio residents ($1,058.20 for non-residents). Please note there is a different tuition schedule for the online MLS in Cybersecurity. 
Yes. An MLS student is eligible for student loans in any semester in which they are taking at least 6 credits of coursework.
For more information regarding financial aid, click here. 
It is anticipated most MLS students will want to take the program on a part-time basis. If you are interested in being a full-time MLS student, please contact the MLS Program Director, John Plecnik at j.plecniknull@csuohio.nulledu.
Introduction to American Law and Legal Research & Writing for MLS Students will be offered only in the evening. Except for those two required courses, MLS students may take any law school course, whether it is offered during the day or in the evening.
Generally yes. With the exception of two courses – Introduction to American Law and Legal Research & Writing for MLS Students – the courses you will take while in the MLS Program are the regular law school courses attended by students in the JD Program.
A 3.0 GPA is required upon graduation in order to earn the MLS degree. While enrolled as an MLS student, a student will be graded on a separate scale, similar to other Master's students at CSU, rather than on the mandatory curve required for JD students. 
Yes. With the approval of your advisor you will be able to take credits in CSU graduate courses outside the law school and those credits will count towards your MLS degree.
Yes. An academic advisor will be assigned to you upon your completion of the mandatory courses, per your concentration. Your advisor will work with you to create an individualized curriculum tailored to your needs and interests.
No. The MLS is not intended to prepare students for the JD degree. However, a student who successfully completes courses in the MLS program will have a better understanding of law than someone who has not. In addition, should MLS graduates eventually enroll in a JD program, the MLS experience may prove beneficial.
Currently, students are admitted into the MLS program only at the beginning of the Fall semester.
To be considered for admission, applicants must complete the Application Cover Page and email the required application materials to mls.programnull@law.csuohio.nulledu 
Application Requirements:
Official transcript showing the applicant has earned a Bachelor's degree
 Additional official transcripts of all other college, graduate, and professional studies, whether a degree was obtained or not
A current resume
A personal essay describing how you expect to use the knowledge acquired in pursuing the MLS degree
NOTE: Applicants with a final undergraduate grade point average under 3.0 must also submit a standardized test score. LSAT, GRE, or GMAT are acceptable.
For questions, contact Julie DiBiasio, Director of Graduate Studies and Professional Development, at mls.programnull@law.csuohio.nulledu or 216.687.2328
Applications are reviewed on a rolling basis. In order to be considered for the Fall semester, applications must be completed and submitted no later than orientation (typically a week before classes begin).
For questions, contact Julie DiBiasio, Director of Graduate Studies and Professional Development, at mls.programnull@law.csuohio.nulledu or 216.687.2328
MLS classes begin in the Fall semester each year in and follow the same academic calendar as Cleveland State University.
For more information on specific class times and dates, contact Julie DiBiasio at mls.programnull@law.csuohio.nulledu
No. American Bar Association regulations do not permit any academic credits earned prior to beginning a JD program to be credited toward the JD degree.
---
"I believe the MLS is the new "hybrid" degree for professionals working in US industries that are highly regulated by the FDA, CFR, DOT and the SEC such as chemicals, transportation, foods, healthcare, medical devices and banking. You learn how to think like an attorney in a classroom setting with JD students; to quickly analyze how the laws apply to your business risks and programs; and how to write guidance to diverse stakeholders. The classroom setting is perfect for learning how to problem solve and to present both sides of the business case for any profession. I had great flexibility to choose a variety of elective courses in the law school and the business school that were directly related to my particular interests. This flexibility provides for a higher level of education. The law classroom setting is dynamic with students from diverse cultures and business backgrounds. The instructors are dedicated to their field of expertise and to helping you achieve your professional goals."
D'Jaris Richardson, MLS '19, Health Law Certificate '19; Health Care Compliance Certificate '19
Regulatory Specialist
Zidian Group
---
"As a physician in a leadership position I feel that having an understanding of the legal aspects of the job is a necessity, especially with the complexity of the current health care system. I found the Master of Legal Studies program extremely helpful in obtaining the legal knowledge I needed, which has helped me tremendously in my work as well as helping me educate physicians-in-training regarding subjects they might face in their future career, and even understanding the basic components of a contract. Gaining understanding of legal analysis was another huge benefit since it changed my thinking process when analyzing the problems I face. The beauty of this degree is that students can pick up classes that suit their needs and learn from outstanding experts at Cleveland Marshall College of Law."
Ahmed Kilani, MD, MLS '16
Cleveland Clinic Fairview Hospital
Program Director, Internal Medicine Residency; Chairman, Graduate Medical Education Committee; Physician Advisor, Care Coordination Department; Regional Director, Cleveland Clinic Quality Alliance; Clinical Assitant Professor, Celeveland Clinic Lerner College of Medicine of Case Western Reserve University
---
"I have always had a strong interest in law and policy, and my career and community service experience has always connected me to this area. I wanted to obtain a Master's degree that fit my professional aspirations and goals and that would also allow me to be more effective in my service to the community. My experience thus far has been amazing; the staff and faculty have been very helpful in gauging my needs and assisting me in formatting the program in a way that meets my needs as a student and professional. I would definitely recommend the MLS program to anyone looking to advance their knowledge in law without necessarily the commitment of a JD program."
Stephanie Pope
Probation Officer, City of Cleveland
Vice Chair, Cuyahoga Metropolitan Housing Authority (CMHA) Board of Commissioners
---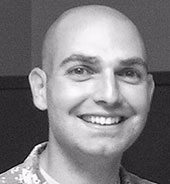 "For me as a police officer, the benefit of the MLS degree is twofold. First of all, this unique curriculum is an alternative to the J.D. program that still allows me to delve deeper into the intricacies of the law. Secondly, I am able to enhance my career by networking with law students who are tomorrow's attorneys, prosecutors, judges, and lawmakers. Additionally, the fact that I am able to use my veterans educational benefits (G.I. Bill) to cover the entire cost of my graduate degree is an enormous benefit."
Zacki Hazou
Full-time Police Officer
---
"I have always been interested in law, even though I did not intend to become a practicing attorney. My position at The George Gund Foundation demands knowledge of laws and regulations across the fields of philanthropy, nonprofits, government and education. My work in 2012 in the development of Cleveland's Plan for Transforming Schools and its supporting legislation, House Bill 525, is probably my best example of a deep dive into legislation, law and contracts.
The Master of Legal Studies degree seemed like a great opportunity to further my knowledge in the field of law. It has met and exceeded my expectations. My courses are rigorous, interesting and applicable to my career: it's hard to pick a favorite! My MLS and JD classmates have a wide variety of impressive personal and professional experiences, and contribute greatly to the richness of my education."
Ann Mullin
Senior Program Officer for Education
The George Gund Foundation
---
"The greatest aspect of the Master's of Legal Studies program is that I have been able to customize the program to fit my needs. I am able to continue to work while taking classes that advance my knowledge of the law in the areas that apply to my career. The classes I have taken have provided me additional insight in the workplace and will allow me to advance my career in the future. The faculty has been very responsive in assisting me to reach my career goals and have encouraged me along the way. This program has provided me immeasurable benefit."
Amy T. McMillan
Consultant with Dave Oldham Consulting Inc.
No. If you want to become a lawyer, the MLS Program is not for you. You should apply to our JD Program instead. The MLS provides new skills and knowledge to enhance your existing ones rather than to prepare you for a new career. It will not permit you to take the bar examination and so it is not intended for people who want to practice law. If that is your interest, you should apply to our JD Program.
For all other questions, contact Director of Graduate Studies and Professional Development Julie DiBiasio at 216.687.2328 or mls.programnull@law.csuohio.nulledu or MLS Director Prof. John Plecnik at 216.687.2346 or j.plecniknull@csuohio.nulledu