Featured image
Image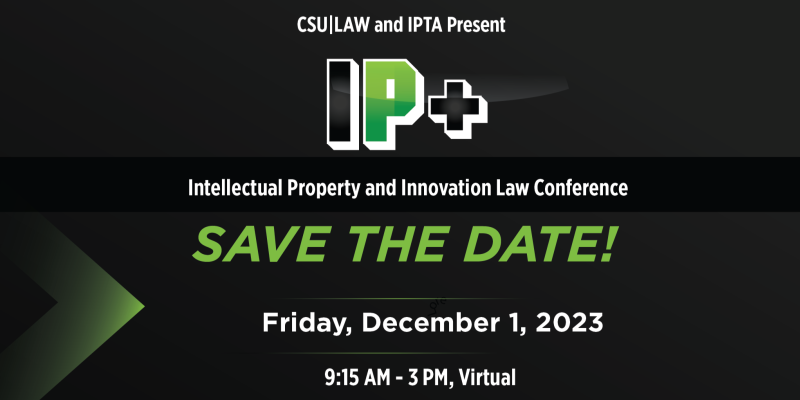 Save the Date for the IP+ Conference at CSU Law, brought to you by IPTA!
Free for those not seeking CLE: register here
$99 for those seeking CLE: register here
CLE Approved: 4.5 hours + .5 Professional conduct (5 hrs CLE)
Join us for an exceptional day of intellectual property insights:
🔑 Keynote Panel: Roman Martinez, representing the Warhol Foundation in the iconic Supreme Court case, Andy Warhol Foundation v. Goldsmith.
Explore a diverse range of IP topics, including:
✨ IP Monetization & Liquidity
🏢 Strategies from In-House Counsel
🌐 Cross-Border Trade in IP
🤖 Artificial Intelligence & the Law
This isn't your ordinary IP conference! Fortune 500 in-house counsel will divulge IP strategies spanning various industries. Delve into finance and cross-border IP trade with experts from BigLaw and the Big Four. Engage in a lively discussion on the pros and cons of using AI in the legal profession, art, and tech.
Plus, enjoy autographed memorabilia with an optional in-person CLE and social event on Thursday afternoon.
Expect an interactive virtual experience, not just another webinar, where you can fully engage with panelists and fellow attendees during Q&A.
🕒 Agenda
Time
Event
Desciption
Speakers
9:15am
Opening Remarks
 

Prof. Christa Laser, CSU College of Law

Dean Lee Fisher, CSU College of Law

9:30am
Current Trends in Patent Valuations for Operating Companies: The When, Why, and How of Valuing a Company's Patent Portfolio and How and Why Things can Go Wrong with Valuations
This session will be useful to a wide range of in-house lawyers, outside counsel, the C-Suite, and other professionals whose companies or clients have patent portfolios that potentially drive value.  The panel will talk about current trends in patent valuation including why there has been an uptick in valuation requests in certain market segments and what that means for operating companies.  The panel will discuss the various ways that patents can be valued (in a non-litigation setting), the various purposes for which a company would seek a valuation, and the importance of matching up the purpose of the valuation with the methodology applied.  The panel will also share examples of the negative consequences of a "bad valuation" or "mis-jointed valuation" where the purpose does not match the methodology.

Mike Pellegrino, Pellegrino & Associates

Matt Vold, Stout

Karl Maersch, Hilco Streambank

10:30am
Cross-Border Trade in IP
This panel will address issues in the cross-border use of intellectual property assets.  We will discuss practice at the USITC, issues to keep in mind when structuring a license agreement with international scope and rights, and also new proceedings for foreign sales into the US including Schedule A proceedings and Amazon Court.  We will also cover developments in the EU including the new Unified Patent court.

David Maiorana, Jones Day

Rob Latta, Jones Day 

Todd Tucker, Calfee 

Mark Andres, Eisenfuhr Speiser

Lily Zhang, Jones Day

Phillip Rastemborski, Eisenfuhr Speiser

Desiree Heintz, Eisenfuhr Speiser

Moderator: Christa Laser

11:30-12
Break
 
—
12-1pm
Keynote: Andy Warhol Foundation v. Goldsmith
Join us for a captivating panel featuring Roman Martinez and Tom Hentoff, who argued Andy Warhol Foundation v. Goldsmith. This is an exceptional opportunity to gain insight into the intersections of law and art as well as discuss the impacts of the iconic Supreme Court case.

Roman Martinez, who represented Warhol 

Tom Hentoff who argued on behalf of Goldsmith

Prof. Rebecca Tushnet, Harvard

Cara Gagliano, Electronic Frontier Foundation

Prof. Dennis Crouch, PatentlyO

Moderator: Ari Sherwin

1-2pm
In-House IP Strategies from Fortune 500 Reps
The scope and responsibilities of in-house IP counsel have increased in importance during the past year, especially with new developments such as in AI and other areas of technology.  They are expected to assess and mitigate risk, ensure compliance with emerging regulatory regimes, and manage a budget while advancing the organization's strategic objectives.  Our esteemed panel of in-house IP counsel from around the country will provide insight into significant areas of concern facing IP law departments today on topics ranging from threats and opportunities in new technology, protection of intellectual property assets, and crisis management.

Troy Prince, Vice President, Chief Intellectual Property and Licensing Counsel, RTX Corporation

Jessica Meyers, Senior Corporate IP Attorney, Microsoft

Arthi Tirey, Chief IP Counsel, Nordson Company

Moderator: John Cipolla

2-3pm

Advantages and Legal Pitfalls in Artificial Intelligence

Sponsor: Kirkland & Ellis LLP

AI has created new opportunities for companies to grow, but it also brings new ways to undermine the rights of others, such as infringing on the right of publicity with deepfake technology or training large language models on copyrighted books and images.  This panel will begin with a discussion of the legal implications of AI.
Then, the last thirty minutes of the panel will focus on the potential ethics and professional responsibility concerns that arise in AI, including competence, bias, and confidentiality.  We will also look at trends and risks in use of AI within legal teams.

Joshua Simmons, Kirkland & Ellis LLP

Zach Warren, Thomson Reuters Institute

Mary Rasenberger, Chief Executive Officer, The Authors Guild

Jess Miers, Legal Advocacy Counsel, Chamber of Progress

Jenn Huddelson, Cato Institute

Moderator: Christa Laser

3-4pm
Open Q&A & Social
 
 
Registration
Free for those not seeking CLE: register here
$99 for those seeking CLE: register here
Thank you to our generous sponsors: Kirkland & Ellis LLP and John Cipolla (Calfee)
Image