The Leader-in-Residence (LIR) program is designed to more closely connect our students, staff and faculty with key community leaders from whom we can learn and benefit.
While CSU|LAW hosts many lawyers and business practitioners as visiting lecturers, panelists, and conference participants each year, the LIRs maintain uniquely deep, long-term relationships with the law school.
Each LIR volunteers their time and talent, and works with the Dean and one or more designated faculty and staff to design a program customized to the mutual needs of the LIR and the law school.
CURRENT CSU|LAW LEADERS-IN-RESIDENCE: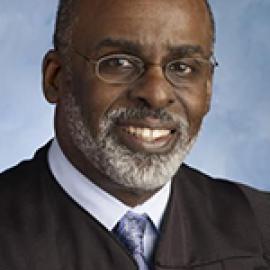 JUDGE RONALD ADRINE '73
JURIST-IN-RESIDENCE
Judge Adrine recently retired as Administrative and Presiding Judge of the Cleveland Municipal Court in 2017, a position he held since 2009. He first took a seat on the Cleveland Municipal Court bench in 1981 and was reelected five times. Judge Adrine is the co-author of Ohio Domestic Violence Law and is a nationally recognized expert on domestic violence issues. He is a past recipient of the CSU College of Law Alumni Association Alumni of the Year and Cleveland State University Distinguished Alumni Award for Civic Achievement, and in 2017, was inducted as an inaugural member of the CSU|LAW Hall of Fame, along with his father, Russell, a 1954 CSU|LAW graduate.
---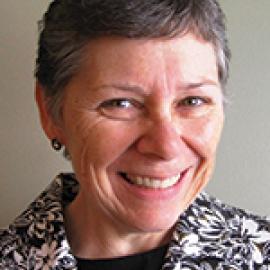 PROFESSOR SUSAN BECKER '83
PUBLIC INTEREST LEADER-IN-RESIDENCE
Susan Becker has been a part of CSU|LAW for nearly four decades, first as a law student and then an adjunct instructor, law professor, associate dean, and currently as professor emerita. She served for 24 years as a full-time faculty member at CSU|LAW before retiring in June 2014. Throughout her academic career, Becker maintained a modest pro bono practice, providing legal counsel primarily regarding attorney ethics and professionalism, and forms of discrimination that lesbian, gay, bisexual and transgender (LGBT) individuals commonly experience. Becker currently works in a volunteer capacity as a board member and as general counsel for the ACLU of Ohio. She was awarded the Cleveland State University Distinguished Faculty Teaching Award in 2010 and inducted as a 2018 member of the CSU|LAW Hall of Fame.
---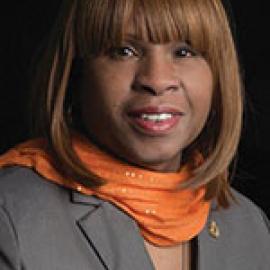 SHERYL KING BENFORD '79
LEADER-IN-RESIDENCE
Sheryl King Benford was a teacher and the first African American woman school administrator for the City of East Cleveland School District before graduating from CSU College of Law. Later, she served as the first African American assistant dean at our law school, in the office of admissions and student affairs, from 1979-1981, and as adjunct professor from 1980-1981. In addition to having a private practice, she worked as Cleveland's assistant law director from 1981-1984 and 1988-1991. She served as the first African American law director for the City of Shaker Heights from 1992-2000. In 2000, she became the Deputy General Manager and General Counsel of the Greater Cleveland Regional Transit Authority (GCRTA), the first woman to serve in the General Counsel role at GCRTA. She retired from GCRTA in 2022 as a Senior Advisor.
She has served CSU|LAW as president of the Alumni Association and as a member of both the National Advisory Council and Visiting Committee. Benford has received many honors in her career including Cleveland State University's 2006 George B. Davis Award for Service, which recognizes a graduate's generous dedication to the growth and advancement of the university, and the 2014 YWCA Women of Achievement Award. She is a member of the CSU|LAW Board of Visitors Executive Committee.
---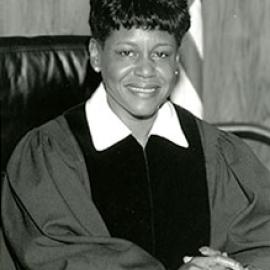 JUDGE PATRICIA A. BLACKMON '75
JURIST-IN-RESIDENCE
Patricia Blackmon is a 2017 inaugural member of the CSU|LAW Hall of Fame. A magna cum laude graduate of Tougaloo College, she was born in Oxford, Mississippi. During the 1970s, in an effort to increase its African-American student population, CSU College of Law sent then-Professor and fellow Hall of Fame honoree Ann Aldrich south to recruit promising students studying at historically Black colleges. Blackmon, with majors in African-American Studies, Political Science, and History, was such a student, bound to excel. And she has: both in law school and, notably, as Chief Prosecutor for the City of Cleveland and as Assistant Director of the Victim/Witness Assistance Program. She was elected to a Judgeship on the Ohio Eighth District Court of Appeals in 1991, the first African-American woman in Ohio to serve on any of the state's appeals courts, and is now serving her fourth term with distinction. Blackmon was inducted into the Ohio Women's Hall of Fame and received the Law Alumni Association's 1996 Recognition Award.
---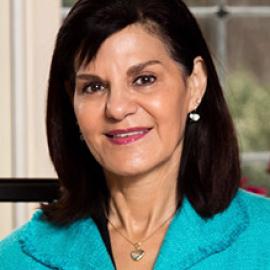 KIM BIXENSTINE
HEALTH LAW & POLICY LEADER-IN–RESIDENCE
Kim Bixenstine is a professional mediator and arbitrator with expertise in health law, medical malpractice, employment, business and commercial, tort, fraud & abuse, environmental and antitrust matters. Kim retired from University Hospitals (UH) in April, 2019, after 16 years. From April, 2015-April, 2019, Kim served as Chief Compliance Officer of UH, leading the compliance and ethics program system wide. From April, 2003-April, 2015, Kim served as Vice President & Deputy General Counsel of UH, where she was in charge of claims, litigation and risk management system-wide. Before joining UH, Kim was Vice President and Chief Litigation Counsel for TRW, Inc. Prior to that, Kim was a partner in the Jones Day law firm.
Under her leadership as Chief Compliance Officer, UH was named by the Ethisphere Institute as one of the World's Most Ethical Companies for four straight years. She was named the Medical Mutual/Smart Business non-profit executive of the year in December, 2017 for her Board service for Cleveland Rape Crisis Center. She has received the YWCA Woman of Achievement Award, the Cleveland Metropolitan Bar Association's President's award, and the award for outstanding in-house counsel for a non-profit by Crain's Cleveland Business.
Kim is a summa cum laude, Phi Beta Kappa graduate of Middlebury College and obtained her law degree from the University of Chicago Law School. 
---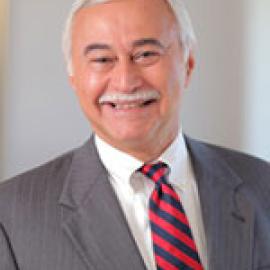 JOSÉ C. FELICIANO '75
LEADER-IN-RESIDENCE
Feliciano is a former Partner in the Litigation Group in the Cleveland office of Baker & Hostetler LLP. Previously, he served as the City of Cleveland's chief prosecuting attorney and was the first Hispanic public official in the City's history. Earlier in his career, he was a Cuyahoga County Public Defender, an attorney for the Legal Aid Society, and in 1984, was selected as a White House Fellow. Feliciano has founded or served in leadership capacities for multiple organizations that advance the Hispanic community in Northeast Ohio, including the Hispanic Roundtable, the Hispanic Leadership Development Program, and the Hispanic Community Forum, and the Ohio Hispanic Bar Association. He is a past recipient of Cleveland State University Distinguished Alumni Award, the CSU College of Law Alumni Association Alumnus of the Year and is a member of the CSU College of Law Hall of Fame and the Cleveland State University College of Business Hall of Fame.
---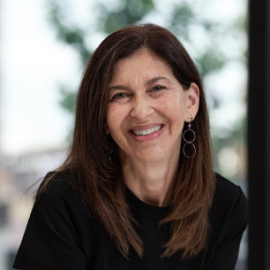 SHARON SOBOL JORDAN
LEADER-IN-RESIDENCE
Sharon Sobol Jordan is the Chief Executive Officer of the Unify Project, a high-tech nonprofit committed to creating an expanding economy powered by inclusive prosperity. Before joining the Unify Project, she served as Chief of Staff for Cuyahoga County for three years, where she drove early childhood education expansion, workforce systems transformation, the first unified strategic plan, and other key initiatives. She also led the County's top team and served as chief strategy officer and policy advisor to the County Executive. Jordan also previously served as President and CEO of the Centers for Families and Children. She had previously served as Chief Operating Officer and General Counsel at The Centers. Jordan's public career also includes serving as Law Director for the City of Cleveland and special counsel to Mayor Michael R. White. Jordan was recognized as one of the Smart 50 leaders in Northeast Ohio by Smart Business in 2017, Nortech's Innovative Leader of the Year and an EY Entrepreneur of the Year finalist in 2014, Crain's Woman of Note in 2013, and YWCA Woman of Achievement in 2012.
---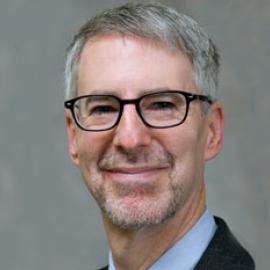 Howard Katz was appointed CSU|LAW's first Legal Educator-in-Residence, providing ongoing advice to Dean Fisher and other faculty and staff on best practices across a variety of areas, including admissions, academic support, bar passage, curriculum, and teaching. Katz is a former visiting professor at CSU|LAW and has served as professor, academic associate dean, administrative associate dean, and special advisor to the dean at several law schools. He regularly makes presentations about teaching and curriculum at national conferences, including participating in the invitation-only annual Wolters Kluwer Leading Edge conference, where he has convened sessions on such topics as design thinking, the future of the casebook, and teaching higher-order skills to law students. He is co-author (with CSU|LAW Professor Kevin O'Neill) of Strategies and Techniques of Law School Teaching and helped develop and serves as editor of the Strategies and Techniques series of books that provide subject matter-specific teaching advice for law professors. Katz is also the former Director of Strategic Planning and Policy for the Cuyahoga County Treasurer's Office, served as Chief Counsel to the Cleveland City Council, was Senior Fellow at the American Architectural Foundation, and was a Knight Foundation Fellow in Community Building.
---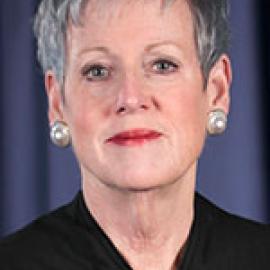 Maureen O'Connor was the 10th Chief Justice of the Ohio Supreme Court and the first woman to lead the Ohio judicial branch. Justice O'Connor's distinguished career in public service and the law includes service as a private lawyer, Magistrate, Common Pleas Court Judge, County Prosecutor, and Ohio Lt. Governor. She served as president of the Conference of Chief Justices and chair of the National Center for State Courts. In 2022, O'Connor retired from the Bench. She is a member of the CSU|LAW Board of Visitors.
---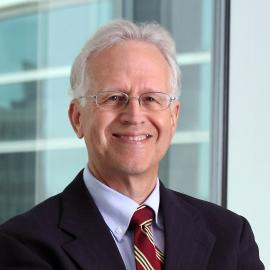 Percy joined the Standard Oil Company, predecessor to BP America, in 1976 and spent significant time working in London, where he served as group treasurer of The British Petroleum Company plc and chief executive of BP Finance International. Prior to his promotion to chairman and CEO of BP America in 1996, he served as president of BP Oil's U.S. Division and executive vice president of BP America. He is a member and past chair of CSU College of Law's National Advisory Council and is past chair of the CSU Foundation Board of Directors. During the 2012-13 academic year he served as interim dean of the Monte Ahuja College of Business at CSU. Since retiring from BP, Percy has held positions as the head of Phillips Petroleum's Refining, Marketing and Transportation Company, and conducted workshops on corporate governance for the AHC Group, a strategic consultant in the areas of environment, energy and materials. Percy served as a member of President Clinton's Council on Sustainable Development as Co-Chair of the Climate Change Task Force, and is active with several organizations pertaining to environmental and economic research. In 2014 he established named professorship at CSU|LAW to support scholarly work in environmental or energy law.
---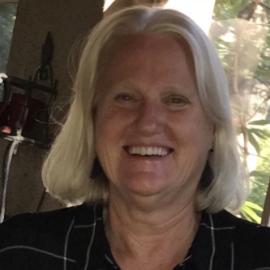 Ann Rowland was an Assistant United States Attorney in the Northern District of Ohio for nearly 38 years. Recently retired, she served as the Deputy Chief of the Criminal Division and Chief of the Major Fraud and Corruption Unit. Ann specialized in the investigation andmprosecution of public corruption, organized crime and white-collar crime cases. From 2007 until she retired, she supervised the Cuyahoga County public corruption investigation, recognized by many as ending a corrupt political regime and laying the foundation for the new form of government approved by voters in 2009. Her team, consisting of Assistant U.S. Attorneys, FBI Special Agents and IRS Special Agents, prosecuted more than 60 public officials and business people in Cuyahoga County, Ohio, proving at several federal trials that a County Commissioner and the County Auditor had orchestrated a decade-long RICO conspiracy involving almost 20 separate bribery schemes and over 100 bribes.
Ann also supervised the Organized Crime and Public Corruption Unit, the Economic Crime Unit, the Health Care Fraud Task Force and the Organized Crime Strike Force. She was a member of the Sixth Circuit Pattern Jury Instruction Committee, an adjunct professor at CSU College of Law, and an instructor at the Attorney General's Advocacy Institute. In 2013, Ann received the Attorney General's Distinguished Service Award.
Ann Rowland received her J.D. and her B.A. from Case Western Reserve University.
---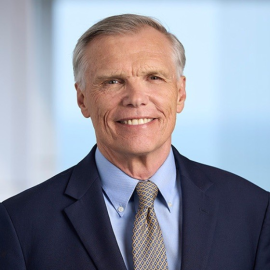 Carter E. Strang is a Tucker Ellis LLP Founding Partner and environmental law, product liability and mass tort litigator. He has lost only one trial in his 35 year career. A frequent lecturer and author, Strang has been published over 50 times on a wide variety of legal topics. He is a Master Bencher in the Judge John M. Manos Inn of Court. Strang is the only person to serve as President the Cleveland Metropolitan Bar Association (CMBA) and the Federal Bar Association Northern District of Ohio Chapter. He is the Cleveland Metropolitan Bar Foundation President Elect and will become Foundation President in 2020. Strang created two award-winning pipeline diversity and inclusion initiatives: the CMBA Louis Stokes Scholars and Tucker Ellis Pipeline Programs. A high school teacher while attending law school at night, he used his teaching expertise in drafting the curriculum of the nationally acclaimed CMBA 3Rs program. A CSU College of Law Leader-in-Residence and member of its Visiting Committee, Strang created the Professor Joel J. Finer Award in honor of his former CSU College of Law professor. He is a long time CSU College of Law Alumni Association Trustee and a recipient of its Alumnus of the Year Award. Other honors include the CMBA Justice for All and Green Sustainability Awards, the Kent State University and Honors College Distinguished Alumni Awards, and the Federal Bar Association Elaine "Boots" Fisher Awards. A two-sport college athlete, Strang is a Cleveland Triathlon Gold Medalist who twice bicycled from Cincinnati to Cleveland to raise money to fight cancer. 
---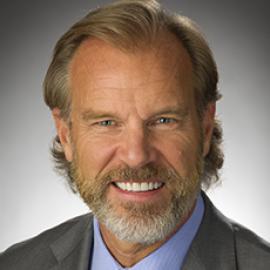 Kelly Tompkins is an attorney and business leader who established the P. Kelly Tompkins Leadership and Law Program at CSU|LAW to provide leadership skills education to a new generation of lawyers. He currently serves as Chair of the law school's Board of Visitors. Tompkins is also a Senior Advisor at the Cleveland public relations firm Dix & Eaton. He is a past recipient of the Cleveland State University George B. Davis Service Award and CSU College of Law Alumni Association Alumnus of the Year and delivered the commencement address for the 2005 graduating class of CSU College of Law. He was an inaugural inductee into the CSU|LAW Hall of Fame in 2017. His impressive legal and corporate career has included numerous public company roles, most recently as Executive Vice President & Chief Operating Officer at Cleveland Cliffs where he previously served as its Chief Financial Officer and Chief Legal Officer. Prior to joining Cliffs, Kelly spent 15 years with RPM International, including service as Executive Vice President & Chief Financial Officer and Chief Legal Officer. Tompkins also served as President of the Cleveland Bar Association from 2005-2006.
---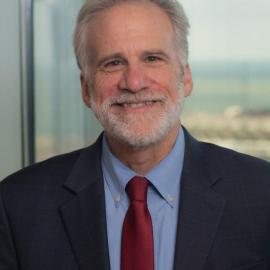 Robert J. Triozzi has been a leader in the criminal justice system throughout his legal career. He served for ten years as a Judge of the Cleveland Municipal Court and was the former Director of Law and Chief Prosecutor for the City of Cleveland. Triozzi has most recently served as the Cuyahoga County Director of Law where he helped advance local efforts toward bail reform and jail diversion opportunities.
Prior to his public service, Triozzi was a criminal defense trial lawyer. While on the bench, Triozzi assisted his colleagues in the establishment of the Greater Cleveland Drug Court and was instrumental in establishing the Court's Mentally Disordered Offenders Docket, one of the first such Mental Health Courts in Ohio. Triozzi has served as a member of the Ohio Supreme Court's Domestic Violence Advisory Committee and additionally has held leadership roles in several county-wide criminal justice initiatives. Triozzi has served on the CSU|Law adjunct faculty and on the faculty of the Ohio Judicial College. He is a past recipient of the Cleveland Metropolitan Bar Association (CMBA) Justice for All Award.
In addition to his work in the area of criminal justice, as Director of Law for the City of Cleveland and Cuyahoga County, Triozzi in charge of state and federal litigation including civil rights litigation and was responsible for representing the public entities' interests in labor and employment matters, including litigation, arbitrations and collective bargaining negotiations. Triozzi also previously served as District Director to U.S. Representative Eric D. Fingerhut (OH-19) and served as Of Counsel with the law firm of Calfee, Halter & Griswold, primarily in its Government Relations and Public Law Practice Groups.
Triozzi received his B.A. from Cornell University in 1979 (majors in History and Government) and his J.D. from Case Western Reserve University in 1982. He has been a board member of both the CMBA and Cleveland Metropolitan Bar Foundation. He is also a graduate of both Leadership Cleveland and Leadership Ashtabula.
---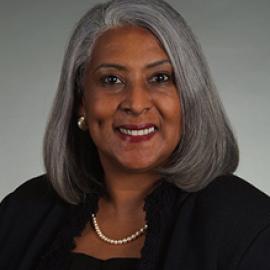 Wilson serves as General Counsel of Cleveland State University, providing counsel to the University's board of trustees and president on a wide variety of matters. She joined the University in 1996 as a Lecturer at CSU|LAW and in 1997 became the University's Assistant Legal Counsel. She served as Secretary to the Board of Trustees from 2000 to 2011, and she was named General Counsel in 2004. In 2013, she was elected to serve as the first Vice President for Diversity and Inclusion of the Cleveland Metropolitan Bar Association and currently serves on its Diversity and Thought Leadership Committees. Wilson received the 2013 Trailblazer Award from the Norman S. Minor Bar Association, was named 2014 Professional Woman of the Year by the Women of Color Foundation and was a finalist in Crain's Cleveland Business 2014 Class of Top Ten General Counsel and In-House Counsel in the Region. In 2015, she was named a YWCA Woman of Achievement.
---
The CSU|LAW Leader-in Residence (LIR) program was launched in February 2017. Our first Leader in Residence was Steve Percy, a prominent CSU|LAW alumnus who volunteered his time and expertise in his latest of many acts of generosity to CSU|LAW. The program also includes those with a particular specialty such as Technologist-in-Residence and Legal Educator-in-Residence.
Such in-residence programs are very common at graduate business schools, but far less common among law schools. CSU's Ahuja College of Business has seven Executives-in-Residence in 2020.
Community leaders are willing to devote time to the program on a regular basis throughout the term of their service. While most LIRs will be retired or semi-retired, the key commitment is a willingness and availability to be at the law school on a regular basis. While most LIRs will be lawyers and CSU|LAW alumni, it is not necessary that the LIR be an alumnus or a lawyer.
Possible activities include, but are not limited to: